DIVE THE POOR KNIGHTS
TOP TEN WORLD DIVE SITE
The Poor Knights Islands are located 22 km off the east coast of Northland. They are the remains of a group of ancient volcanoes. Beneath the waves, these volcanoes have been hollowed and shaped by the ocean into a web of caves, tunnels, and cliffs which Jacques Cousteau rated as one of the top ten dives in the world. 
DIVE TOUR HIGHLIGHTS
Because of their incredible form and biodiversity, the sea surrounding the islands has been a marine reserve since 1981.
The Poor Knights offer a huge array of marine life that can be seen over long distances because of the spectacular visibility. There are sponge gardens and gorgonian fields inhabited by a myriad of fish, shellfish, urchins and anemones. The islands' famous arches are fascinating to explore, with countless animals competing for space on the walls. In the warmer months, squadrons of stingrays can be seen cruising the waters of the archways. Many of the subtropical fish living in the marine reserve are found nowhere else in New Zealand. They include subtropical species such as spotted black groper, mosaic moray and Lord Howe coral fish. The fish are known for their friendliness and make visiting the marine reserve a very memorable experience.
To enjoy your charter more, why not take an SSI Marine Ecology course online before you go and learn about the environment you dive in?
DIVE TOUR DETAILS & INCLUSIONS
Our single day charters include two tank dives and weights. Customers are meet at Tutukaka and taken to the Poor Knights on our boat Midnight Diver.
If you are serious about diving one of the best rated dive destinations in the world, then why not book our unique 2 day liveaboard tour and stay overnight. Up to four dives a day are possible. Food and accommodation are included in the price.
DIVE CHARTER ITINERARY
Our day starts at the marina in Tutukaka. Divers meet at around 09:00 to head out to the islands.
One dive is conducted in the morning and one in the afternoon. A surface interval will be conducted in between.
Dives will be taken at two different sites during the day. Customers can expect to be back at Tutukaka by 16:00.
WHAT TO BRING
Remember to bring an appropriate change of clothes, lunch or snacks, water and sunscreen. Dive gear is provided.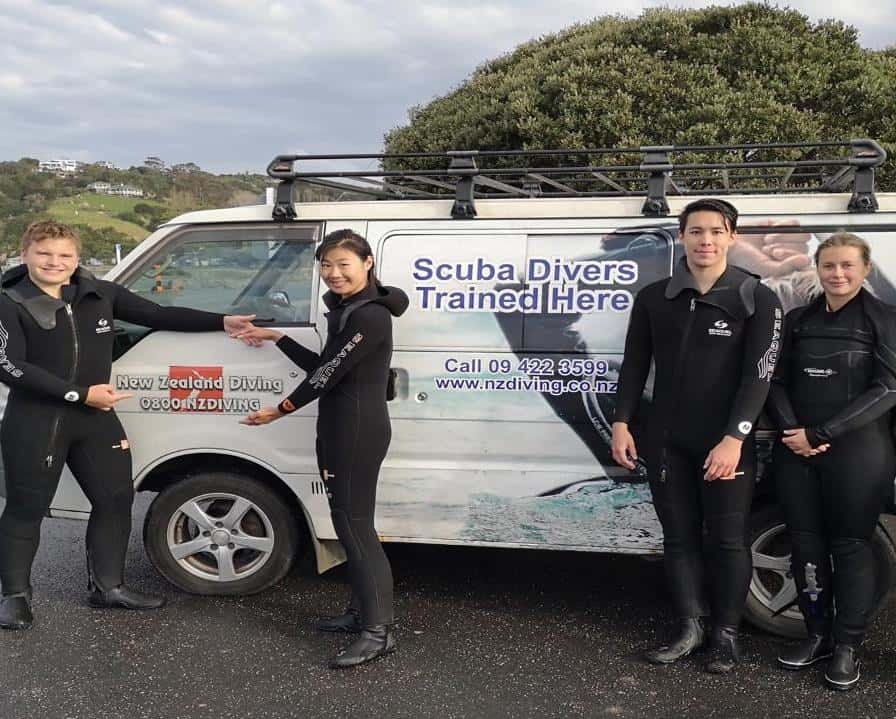 The Poor Knights are one of the top dive destinations in the world. We have provided three different ways for you to choose from to see them.: A singe day charter, a part of our unique dive combination package or on our spectacular 2 day liveaboard. Select you preferred option below
Warkworth, North Island, New Zealand

Poor Knights Island Diving Charter

1 Day

$300.00
Book Now
Combo Book Now
2 day Liveaboard Tour
ADVANCED DIVER COURSE
"Elite Standard of Training, Thank you NZ Diving Looking forward to working together on the next step of my overall objective.
SCUBA DIVE CHARTER
"Neil and his crew were fantastic!! An awesome day with awesome people. Totally recommend!!
WEEKEND WRECK CHARTER
"We were well looked after on our Wreck Dive and had a great time with top notch banter from Neil and his team"
OPEN WATER COURSE
" Completed 3 day course a month ago with my 18yr daughter. Would absolutely connect with this company in the future to dive again!! Thanks Neil!!"
HAMMERHEAD EXPERIENCE
" Professional, Informative, Amazing and Fun, What more could you want!? "
ENQUIRE TODAY
Please contact us using the enquiry form below, if you would like to know more about any diving options featured on our website. Interested in a particular course? Need help with finding suitable diving equipment? Or, any other questions that you may have? Please use this contact form to get in touch with us.
Error: Contact form not found.