INTRO TO TECH DIVING
NEW TO TECH?
The TDI Intro to Tech course is the perfect course for divers who have heard about technical diving and want to find out more about this exciting branch of advanced recreational diving. This course walks students through the special techniques, planning procedures, and skills that set technical diving apart from traditional sport diving. It will show them how to improve their dive planning methods, in-water skills, and streamline their existing gear configuration, in a non-threatening and fun learning environment. The specific skills this course will highlight are: - Advanced Buoyancy Control
- Gas Management
- Situational Awareness
- Trim
- Gear Configuration and Selection
- Many More! TDI's Intro to Tech course is a useful stand-alone course for the diver who wants to become a more skilled, more proficient diver regardless of if he intends to move on to technical diving. The course may also be used as an introduction to the TDI Advanced Nitrox course and the TDI Decompression Procedures course. And finally, it is also a good refresher for certified technical divers who may want to refresh their skills or have them re-evaluated by a TDI technical instructor. The equipment for this course can be hired from New Zealand Diving. Get to try out twinsets, wings stage cylinders, and other technical dive gear as part of the course.
DIVE COURSE HIGHLIGHTS
What you can expect to learn:
In-depth dive planning, advanced buoyancy control, gas management, situational awareness, proper trim, gear configuration and selection
What's in it for you:
Exposure to in-depth dive planning, introduction to more advanced technical diving and equipment
Opportunity to become a more proficient diver and expand on diver skills and knowledge
TDI Intro to Tech minimum requirements:
Execute proper gear selection and preparation as well as buddy gas matching
Mastery of S.T.A.R.T, trim, finning techniques, body positioning, and diver skills
Overall demonstration of mature, sound judgment concerning dive planning and execution
DIVE COURSE DETAILS & INCLUSIONS
Who this course is for:
Certified open water scuba diver who wants to expand diver knowledge
Certified open water scuba diver who is considering technical training
Certified technical diver who is seeking a refresher course
Course prerequisites:
Minimum age 18, 15 with parental consent
Minimum certification: SDI Open Water Scuba Diver or equivalent
Proof of 25 logged open water dives
Upon competing this certification students may be interested in the Nitrox and Advanced Nitrox certifications.
DIVE COURSE ITINERARY
Contact New Zealand Diving about our Intro to Tech Program schedules.
WHAT TO BRING
While New Zealand Diving will provide all necessary diving equipment, you will need to bring sunscreen, swimwear, a towel, and a change of clothes to each session.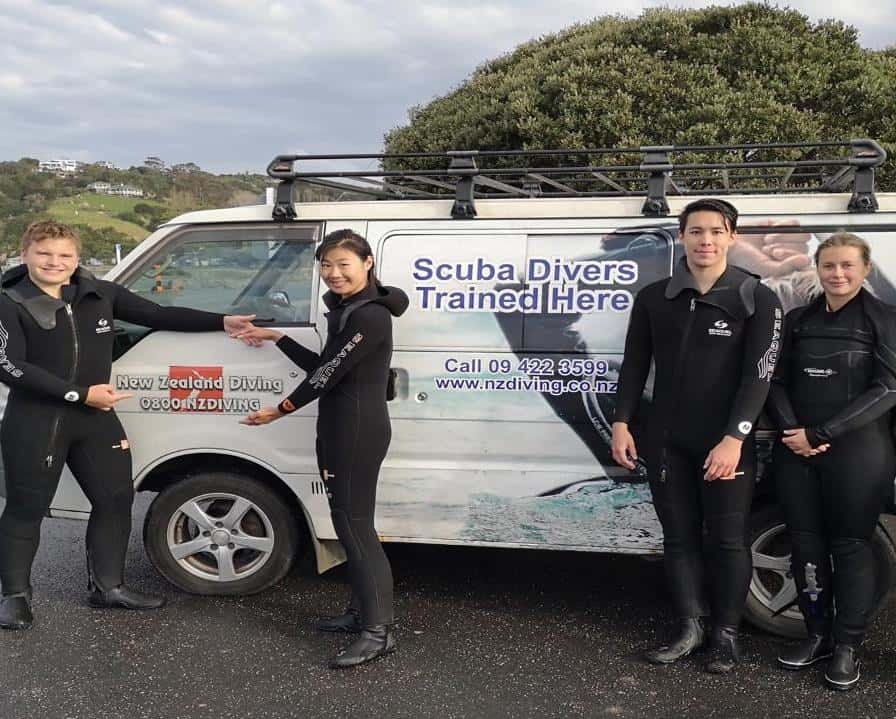 The Intro to Tech course is designed to provide divers who want to discover more about technical diving before making the time and cost commitment to the sport.
Warkworth, North Island, New Zealand

TDI Intro to Tech

1 Day

$440
Book Now
ADVANCED DIVER COURSE
"Elite Standard of Training, Thank you NZ Diving Looking forward to working together on the next step of my overall objective.
SCUBA DIVE CHARTER
"Neil and his crew were fantastic!! An awesome day with awesome people. Totally recommend!!
WEEKEND WRECK CHARTER
"We were well looked after on our Wreck Dive and had a great time with top notch banter from Neil and his team"
OPEN WATER COURSE
" Completed 3 day course a month ago with my 18yr daughter. Would absolutely connect with this company in the future to dive again!! Thanks Neil!!"
HAMMERHEAD EXPERIENCE
" Professional, Informative, Amazing and Fun, What more could you want!? "
ENQUIRE TODAY
Please contact us using the enquiry form below, if you would like to know more about any diving options featured on our website. Interested in a particular course? Need help with finding suitable diving equipment? Or, any other questions that you may have? Please use this contact form to get in touch with us.