SIDEMOUNT DIVER
CHANGE FROM BACKMOUNT
Move away from back mounted cylinders and experience the flexibility and streamlining of sidemount diving.
TDI's Sidemount Diver specialty is the perfect course for any technical diver wishing to use this increasingly popular equipment configuration, either as a 'stand-alone' course or in conjunction with one of TDI's other open circuit specialties. It teaches students how to safely utilize side-mounted primary cylinders as an alternative to the traditional back-mounted method.
Check out our Advanced wreck course and see what you can achieve.
DIVE COURSE HIGHLIGHTS
Who this course is for:
The SDI or TDI diver looking to expand their in-water skills and techniques
The certified diver who has interest in moving forward with technical diving education and expanding their equipment configuration options
This course takes students through the specific techniques, planning procedures and skills that set side-mounted cylinder diving apart from the traditional back-mounted method. During the course, the TDI Instructor takes students on a minimum of three dives and covers skills such as:
Equipment considerations
Gas management
Attaching cylinders
Trim and buoyancy
Deployment of surface marker
Different water entries
TDI's Sidemount Diver Specialty is a useful stand-alone course for the technical diver who wants to become more skilled and proficient with different gear configurations regardless of if he intends to use sidemount all the time. The course may also be taught in conjunction with any of TDI's other open circuit specialty courses, on the condition that all prerequisites and standards applicable to both courses are fully met.
The maximum depth limit of this course must not exceed that of the student's current certification, unless being taught in conjunction with another TDI course which allows a greater depth. Prerequisites to enroll on the TDI Sidemount Diver course are: Age 18, SDI Open Water Diver or equivalent. (Otherwise open water diver)
DIVE COURSE DETAILS & INCLUSIONS
What you can expect to learn:
The TDI Sidemount Diver Course takes an in-depth look at all of the following and more!
Gas matching procedures to include dissimilar volumes
Gas management utilizing independent cylinders
Psychological considerations of technical diving
Equipment considerations including:

Cylinder options
Regulator options
Buoyancy compensator/harness options
Proper weighting
Equipment configurations

Communication (light and hand signals)
Problem solving in a sidemount configuration
Diving in tight or confined spaces
Conservation
Water entries/exits
S-drills specific to sidemount diving
Some of the required skills you will have to demonstrate include:
Demonstrate various propulsion techniques such as the frog kick, modified frog kick, modified flutter kick, backwards kick, helicopter turns, and hand pulling if appropriate for the environment.
Demonstrate adequate buoyancy control; ability to hover at a fixed position in water column without moving hands or feet
Demonstrate adequate trim; ability to maintain proper position during the descent, bottom, and ascent portion of the dive
Demonstrate the ability to perform the following exercises while maintaining trim and buoyancy in the water column:

Unclipping and attaching sidemount cylinders
Perform gas switches with and without a mask

Demonstrate the ability to safely manage gas in independent cylinders
Demonstrate conservation, awareness, and back referencing techniques
Deploy a lift bag
Carry additional cylinders is optional in this course
DIVE COURSE ITINERARY
Course prerequisites:
SDI Open Water Scuba Diver or equivalent
Minimum age 18, 15 with parental consent.
SDI Sidemount Diver minimum requirements:
Perform all land drills and open water dive requirements safely and efficiently
Demonstrate mature, sound judgment concerning dive planning and execution
Log all dives
WHAT TO BRING
Rental gear may be arranged for you. please contact us for your requirements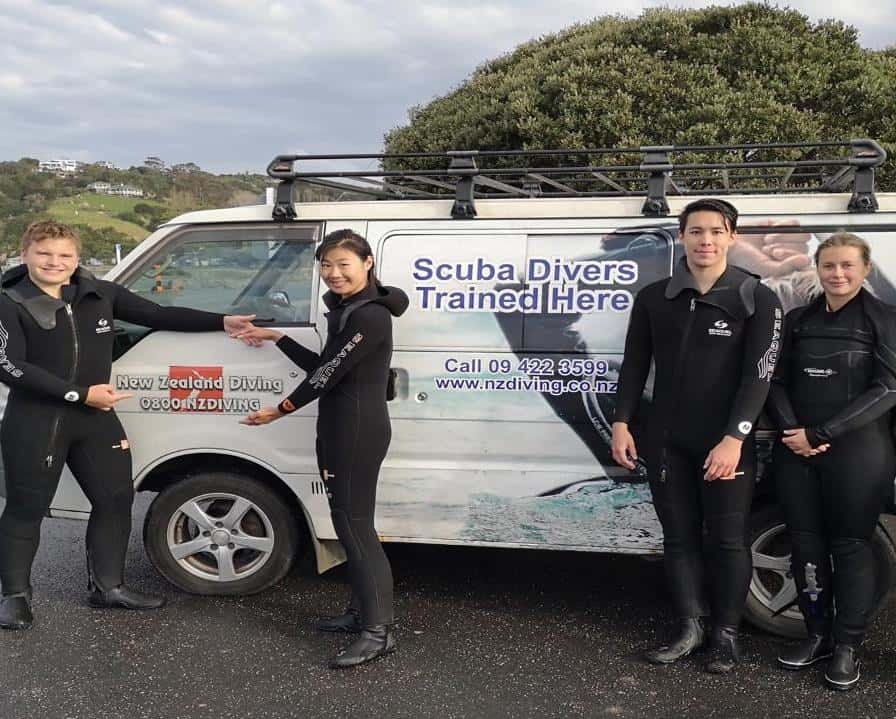 This course is for the certified diver looking to use a sidemount cylinder instead of the standard back mount unit.
Warkworth, North Island, New Zealand

TDI Sidemount Diver

1 Day

$660
Book Now
ADVANCED DIVER COURSE
"Elite Standard of Training, Thank you NZ Diving Looking forward to working together on the next step of my overall objective.
SCUBA DIVE CHARTER
"Neil and his crew were fantastic!! An awesome day with awesome people. Totally recommend!!
WEEKEND WRECK CHARTER
"We were well looked after on our Wreck Dive and had a great time with top notch banter from Neil and his team"
OPEN WATER COURSE
" Completed 3 day course a month ago with my 18yr daughter. Would absolutely connect with this company in the future to dive again!! Thanks Neil!!"
HAMMERHEAD EXPERIENCE
" Professional, Informative, Amazing and Fun, What more could you want!? "
ENQUIRE TODAY
Please contact us using the enquiry form below, if you would like to know more about any diving options featured on our website. Interested in a particular course? Need help with finding suitable diving equipment? Or, any other questions that you may have? Please use this contact form to get in touch with us.