DIVE THE MIKHAIL LERMONTOV
PORT GORE - SOUTH ISLAND
MS Mikhail Lermontov was an ocean liner owned by the Soviet Union's Baltic Shipping Company, built in 1972 by V.E.B. Mathias-Thesen Werft, Wismar, East Germany. It was later converted into a cruise ship. On 16 February 1986, it struck rocks near Port Gore in the Marlborough Sounds, New Zealand, and sank, killing one crew member. With the loss of only one life, the USSR's most luxurious cruise liner became one of the largest and most accessible diving wrecks of the modern era.
Mikhail Lermontov at Tilbury Docks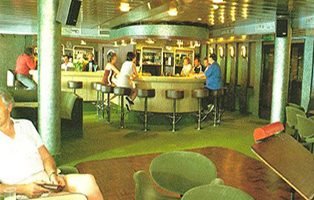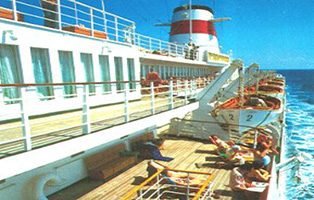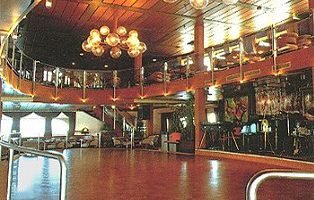 DIVE TOUR HIGHLIGHTS
The Mikhail Lermontov is 155 metres or 578 feet in length and 23.6 metres or 77 feet wide. In its day it could hold about 700 passengers. The Lermontov sank on its side after striking the rocks so when diving this wreck, a good navigational starting point is the ship's deck. Following this gives you a good look at all the best entry points. When we dive it, places in the ship that stand out to us are the ballroom and the The Nevsky Bar. That being said this is a large ship with heaps to see and do.
DIVING DETAILS
The Mikhail Lermontov is in 37 meters of water which pushes the limits of recreational diving. This site is however an ideal dive for using  Nitrox, lots of fun for advanced divers. Good buoyancy control is needed on this dive as many of the ships original furnishings are still present and easily disturbed. Meaning that the visibility is good but can become very poor very quickly. Because this ship is located in the Marlborough Sounds the conditions can be quite cold so a 7mm wet suit is a must, preferably a dry suit.
DIVE TOUR DETAILS & INCLUSIONS
TRIP DETAILS INCLUDE: 
5 nights accommodation at the Lermontov Lodge
4 Day charter (2 or 3 x dives per day, single cylinder & weights)
All meals
Linen & Towels
Excludes: Nitrox, rental gear, flights to Blenheim or ferry crossing
Optional Extra: Return transport lodge – Blenheim airport
DIVE CHARTER ITINERARY
Our journey begins at Blenheim Airport in the South Island. Meeting times will be confirmed for the transportation to the lodge. If you prefer to arrange your on transportation to the lodge please let us know. the road out to the lodge is very slow and can take about 3 hours to drive.
Accommodation will be at the lodge for the entire tour. The lodge is only a short 10 min boat journey away from the dive site. Food is included in the price o the trip, along with bed linen.
Two dives will be conducted a day. No diving 24 hours prior to flying.
To maximise your diving, we can offer the following diving courses: Details are available on our website, please let us know if you are interested in any of these courses.
Advanced Nitrox & Decompression Procedures
WHAT TO BRING
Bring plenty of warm clothing and any special treats with you. This is a very remote location with no corner shops!
Dive gear can be provided but needs to be arranged in advance.
We can arrange standard sports diving equipment if required.
Those of you who prefer to dive with technical twin sets or side mounts these can also be arranged.
Nitrox gas is also available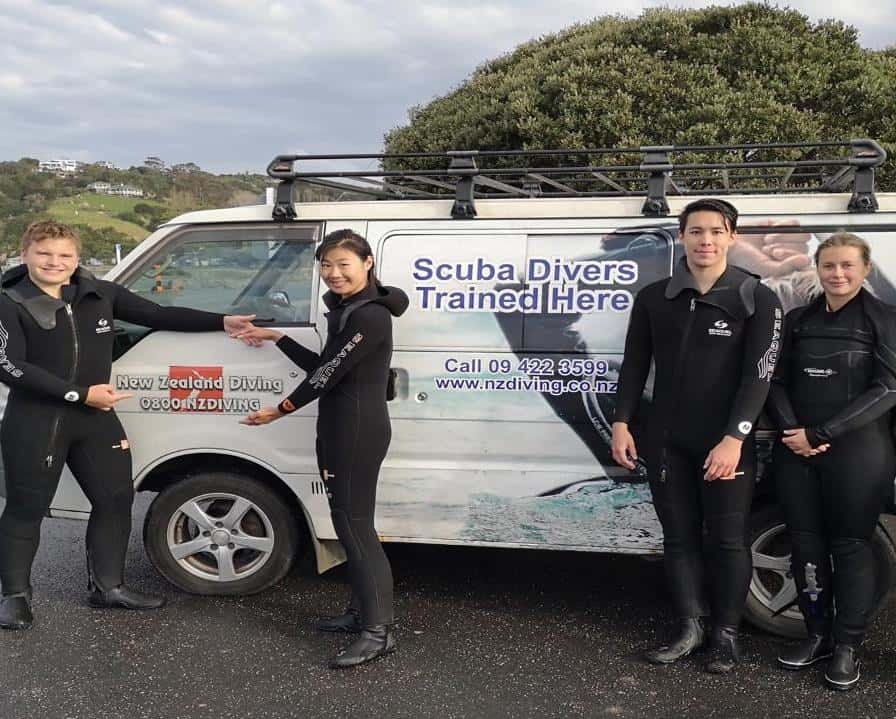 This is a great opportunity to dive one of the most famous shipwrecks in New Zealand. A package tour staying right next to the wreck site, maximising your dive time and enjoyment.
South Island, New Zealand

Mikhail Lermontov Wreck Tour - 4 Days Diving

5 Nights - 4 Days Diving

$1470.00
Book Now
ADVANCED DIVER COURSE
"Elite Standard of Training, Thank you NZ Diving Looking forward to working together on the next step of my overall objective.
SCUBA DIVE CHARTER
"Neil and his crew were fantastic!! An awesome day with awesome people. Totally recommend!!
WEEKEND WRECK CHARTER
"We were well looked after on our Wreck Dive and had a great time with top notch banter from Neil and his team"
OPEN WATER COURSE
" Completed 3 day course a month ago with my 18yr daughter. Would absolutely connect with this company in the future to dive again!! Thanks Neil!!"
HAMMERHEAD EXPERIENCE
" Professional, Informative, Amazing and Fun, What more could you want!? "
ENQUIRE TODAY
Please contact us using the enquiry form below, if you would like to know more about any diving options featured on our website. Interested in a particular course? Need help with finding suitable diving equipment? Or, any other questions that you may have? Please use this contact form to get in touch with us.
Error: Contact form not found.