SPEARFISHING CHARTERS
LEARN TO FREEDIVE
Spearfishing is one of the fastest growing watersports in New Zealand and the Hauraki Gulf has some of the best spearfishing charters to offer for those keen on hunting.
Spearfishing offers a totally different experience in comparison to scuba diving, without the aid artificial breathing apparatus and the hiss of regulators scaring all the fish away, the opportunity to encounter fish life up close and personal increases dramatically. You will get much closer and see a bigger variety of fish; you are now no longer spectators but rather participants, another predator in the food chain of life.
SPEARFISHING CHARTERS
New Zealand Diving offers a whole list of destinations to dive, all from the luxury of our dive boat. These include destinations such as Little Barrier, Great Barrier, as well as sites closer to home.
Once you've geared up and descended into the water, you'll become addicted to the chase as you get up close to a variety of fish like kingies, snapper and more. With good luck on your side, you may catch a few to take home. They'll taste that much better considering how hard you worked for them!
A limited amount of spearfishing equipment is available for hire, including fins, mask, wet suits and spearguns. Contact our store for details on 09 422 3599.
Come and enjoy a day diving in the beautiful water around Little Barrier with New Zealand Diving.
The rocky reefs around Little Barrier have abundant fish and invertebrate life among the kelp forests.
The holes and cracks house many crayfish, perhaps the overflow from Tawharanui Marine Park and Goat Island Marine Reserve on the adjacent coast. Many large Snapper often share their holes or swim through the weed above them. Large shoals of Blue Mao Mao and Kingfish are often found there too.
Join one of our dedicated spearfishing charters for spearo's.
BOOK NOW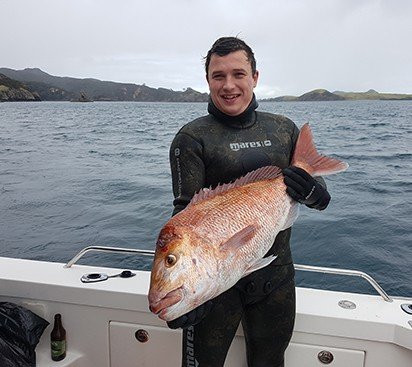 Great Barrier Islands Spearfishing charters have a diving depth of around 5 m to 25m, perfect for any level of free diving. The average visibility is 10-20 metres with access to the dive sites.
Great Barrier Island is a common breeding ground for schools of Blue Mao Mao, Sweep, Snapper and Butterfish.
You will often come across Kingfish as you descend these dramatic walls which drop down to boulders and gradually level out exposing cracks where you can find hidden Crayfish There are also large kelp covered boulders that provide refuge for Blue Cod.
Book a Great Barrier Islands spearfishing charter to and experience the remote wild islands.
BOOK NOW
Kawau & the Surrounds offers fantastic spearfishing. Short trips by boat allows the freedom of moving from reef to reef, all in easy access from Auckland.
This area provides excellent diving in depths not too challenging for those who are new to the sport, while at the same time still providing an abundance of fish species, including Snapper, Butterfish & Kingfish, which can be found at Kawau & Elephant Point.
Flatrock & other deeper reefs provide more challenging diving for those who are experienced & want something extra.
See our special Basic Freediving & Spearfishing combination offer for this location.
BOOK NOW
WANT TO LEARN TO FREEDIVE?
New Zealand Diving now have courses available for Freediving. These can be taken individually or combined with a spearfishing charter.
Our spearfishing charters are available for local destinations such as Kawau & surrounding areas, Little Barrier and even Great Barrier.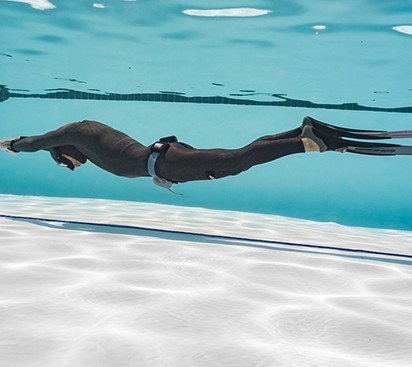 Freediving is the most incredible journey of your life and it begins here!
Become a certified freediver and you will discover the freedom and tranquility that keep freedivers returning to the water time and again. Start your SSI Basic Freediving certification today!
Enjoy spearfishing, why not combine your training with a spearfishing charter?
BOOK NOW
Freediving is more than just an adventure. It is a lifestyle choice and the most wonderful journey of your life. The SSI Freediving Level 1 program gives you all the training and knowledge you need to safely freedive with a buddy in open water environments.
We have advanced dive sites to combine your freediving skills with spearfishing charters, such as Little & Great Barrier.
FIND OUT MORE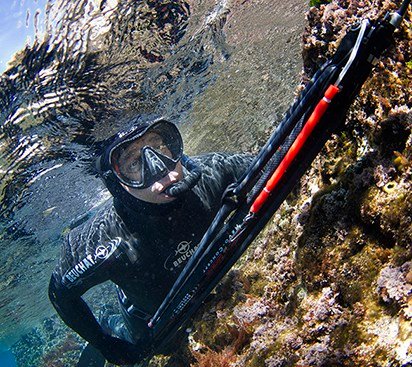 Take a look into the world of freediving and spearfishing equipment that is available on our online shop. Top brands such as Beuchat, Mares and Seac.
You can purchase directly from our online store as we have some GREAT offers.
If you prefer you can come to the shop and get some professional advice so we can help set you up for the future.
SHOP ONLINE
ADVANCED DIVER COURSE
"Elite Standard of Training, Thank you NZ Diving Looking forward to working together on the next step of my overall objective.
SCUBA DIVE CHARTER
"Neil and his crew were fantastic!! An awesome day with awesome people. Totally recommend!!
WEEKEND WRECK CHARTER
"We were well looked after on our Wreck Dive and had a great time with top notch banter from Neil and his team"
OPEN WATER COURSE
" Completed 3 day course a month ago with my 18yr daughter. Would absolutely connect with this company in the future to dive again!! Thanks Neil!!"
HAMMERHEAD EXPERIENCE
" Professional, Informative, Amazing and Fun, What more could you want!? "
ENQUIRE TODAY
Please contact us using the enquiry form below, if you would like to know more about any diving options featured on our website. Interested in a particular course? Need help with finding suitable diving equipment? Or, any other questions that you may have? Please use this contact form to get in touch with us.