WORKPLACE FIRST AID
PROVIDE HELP FAST
This course is cardio-pulmonary resuscitation (CPR), first aid, and automated external defibrillator (AED) use combined into one program. It is designed to teach the techniques to administer CPR, first aid, and utilize an AED in emergency situations involving infants, children, and adults.
This comprehensive program is appropriate for workplace training or general knowledge to be better prepared day to day. It meets all international standards, is OSHA* and ILCOR compliant, and has been accepted by the United States Coast Guard (USCG).
The CPR and AED components cover the knowledge needed to address one of the largest causes of death in the world. Intervening with this knowledge can possibly save a life. The first aid program reviews common techniques to treat serious emergencies, as well as less serious, more common issues.
Who this course is for:
Course prerequisites
Course prerequisites
Minimum age 18, 10 with parental consent
What you can expect to learn:
What you can expect to learn:
The Workplace First Aid program incorporate adult, child, & infant emergency care and is designed to train layperson rescuers for:
CPR administration for children, infants, and adults
AED use for children and adults.
First aid for possible workplace incidents.
First aid for common injuries.
What's in it for you:
What's in it for you:
Upon successful completion of the course, graduates may:
Recognize and evaluate an emergency and a victim
Know how to activate or alert the emergency medical services (EMS)
Be able to provide 1-person infant, child, and adult CPR to a non-breathing or injured person and administer the proper first aid.
Properly use an automated external defibrillator (AED)
First Response courses are modular and designed to work together. Additional courses you may wish to consider using in conjunction with this first aid course are: Airborne pathogens available now in response to Covid19 and other viruses
Bloodborne pathogens in relation to infections transmitted from bodily fluids
Oxygen Administration particularly useful for the scuba & freediving disciplines & required under many of these certifications.
All of the First Response courses are available as online course for distance learning. Students are encouraged to complete the online material prior to attending the classroom course.
How to take this course
How to take this course
There are two components to your Workplace CPR/AED training in order to receive your certification. The first is academics and the second is skills. You must first pass your academics training to proceed to the second phase and work with an instructor in a classroom setting.
Step 1
Academics. We offer two options to complete your academics (eLearning or printed manual). To get started with eLearning, just book your course below and you'll be off and running. If you prefer a manual, contact us and we will ship one to you.* O2 Administration Manual
Once you have completed your academics, you can begin your classroom training with a local instructor.
Step 2
Classroom. Once you have selected your course date & location visit our training center to complete the skills portion of your training.
Once you complete your academics and classroom training, you will be issued a certification. You will then be a certified provider for First Aid provider.
Schedules are available for these courses now and held at a number of locations around the North Island.
For more information about this and other courses offered by us and First Response Training please visit: www.firstresponse-ed.com or contact us.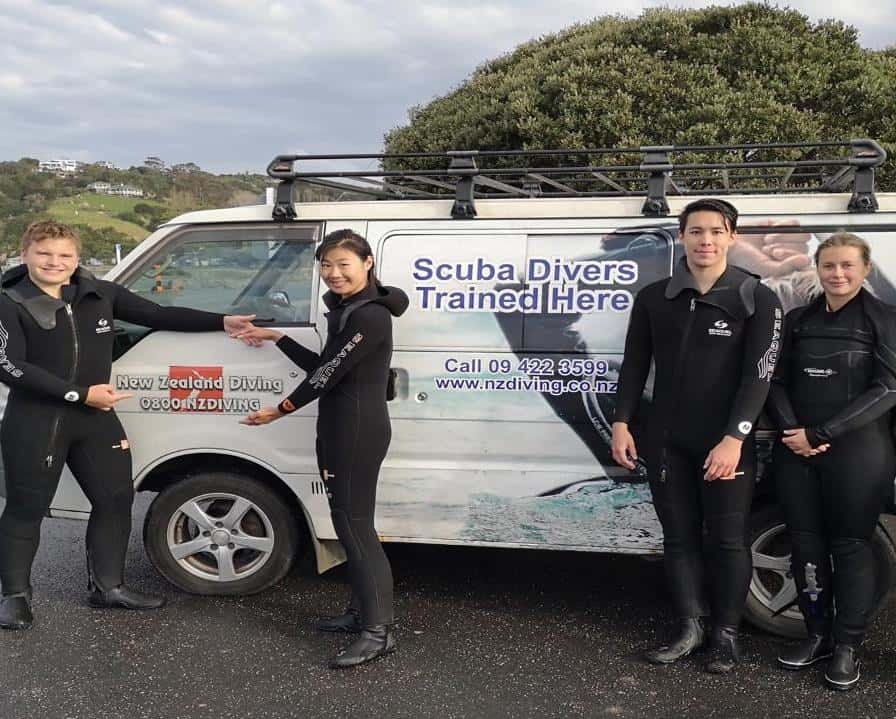 First Aid Courses for work & home
Warkworth, North Island, New Zealand

First Aid Course

1 Day

$220
Book Now
ADVANCED DIVER COURSE
"Elite Standard of Training, Thank you NZ Diving Looking forward to working together on the next step of my overall objective.
SCUBA DIVE CHARTER
"Neil and his crew were fantastic!! An awesome day with awesome people. Totally recommend!!
WEEKEND WRECK CHARTER
"We were well looked after on our Wreck Dive and had a great time with top notch banter from Neil and his team"
OPEN WATER COURSE
" Completed 3 day course a month ago with my 18yr daughter. Would absolutely connect with this company in the future to dive again!! Thanks Neil!!"
HAMMERHEAD EXPERIENCE
" Professional, Informative, Amazing and Fun, What more could you want!? "
ENQUIRE TODAY
Please contact us using the enquiry form below, if you would like to know more about any diving options featured on our website. Interested in a particular course? Need help with finding suitable diving equipment? Or, any other questions that you may have? Please use this contact form to get in touch with us.