TRUK LAGOON – MICRONESIA
PROPOSED 14th to 24th NOVEMBER 2023 FOR ONLY $5,656 – INCL 14 DIVE PACKAGE
With more ocean than land, some of Micronesia's best sights are underwater at Truk Lagoon. There are more than 2000 islands spread over five million kilometres of the Pacific, but many world maps don't even bother showing them. Each island group has its own culture and character as well as diving highlights. They have also been influenced in a different way by colonisation, wars, geography and politics.
Chuuk State consists of 11 mangrove fringed islands in the Chuuk Lagoon – known to divers worldwide as Truk Lagoon – and a further series of 14 outlying atolls and low islands.
New Zealand Diving are bringing you an opportunity to experience some of the best wreck diving in the world. Due to the limited availability and demand for this location we are taking deposits on bookings now to secure your place.
A fourteen dive package is offered from the boat to the wrecks and outer reefs, suitable for divers of all levels. Guests have the the option of a dive guide throughout the trip. Nitrox is available for qualified divers. Double tanks (DIN and YOKE systems) are available for technical divers and a local surcharge applies for oxygen mixtures, Nitrox or Trimix.
DIVE TOUR HIGHLIGHTS
BLUE LAGOON DIVE CENTER
Away from the hustle and bustle of everyday life, the resort is situated on a palm fringed point of Moen Island with breathtaking views of the most famous lagoon in the world, Truk.
The family run dive centre has been welcoming divers since 1973. Daily boat dives operate to the historic wrecks of Truk Lagoon. There are over 40 to discover and some are easily accessed by snorkellers. Nitrox and Trimix are available. A limited supply of helium and sodasorb are kept in stock, but need to be booked in advance.
Accommodation is in two low storey buildings set in lush tropical gardens amongst coconut palms. The 54 rooms are comfortable and spacious featuring air-conditioning, en-suite bathroom, a TV, small fridge and a balcony on which to relax and enjoy the stunning sunset. Other facilities include a restaurant, beach bar, dive lockers, small shop and WiFi internet access is available.
THE DIVING
One of the world's largest enclosed lagoons, Truk is enclosed by a 225 kilometer barrier reef, covers more than 2,000 square kilometers, and is home to an entire Japanese fleet, sunk in 1944. Frozen in time, complete with sake cups and skeletons, jeeps and tanks still tied on board, and fighter planes still waiting in the hangars, the area has been declared an underwater museum.
Incredible corals in a kaleidoscope of colours and shapes attract divers of all levels. Schooling tropical fish smother the ships. Nowhere else in the world are there so many wrecks in close proximity, situated in clear shallow water. Many of the wrecks are visible while snorkelling and there are several on-shore wartime locations to visit.
This is a destination that should be on every diver's wish list.
This trip is open to all levels of divers. Whilst a number of the wrecks are in deep water there is still plenty to see for everyone. For those of you with technical aspirations, we will be also running deeper dives providing your certifications are sufficient.
DIVE TOUR DETAILS & INCLUSIONS
AGENDA AND PACKAGE DETAILS
BOOK YOUR PLACE NOW! NEXT TRIP DATES 14 to 24 NOVEMBER 2023    
EX AUCKLAND FROM $5,656 PER DIVER
Airfares and Taxes
• Return airfares ex Auckland | Sydney | Auckland – Air New Zealand
• Return airfares ex Sydney to Truk via Port Moresby flying with Air Niugini
• Australian departure taxes and applicable airline taxes (subject to change)
Accommodation and Transfers
• 1 nights twin share accommodation at the Travelodge Hotel Sydney Airport
• 8 nights twin share accommodation at The Blue Lagoon Resort – Truk
• Return airport transfers in Truk
• 1 nights twin share accommodation at the Travelodge Hotel Sydney Airport
Diving Package
• 14 dive package with Blue Lagoon Dive Shop
Includes: single tanks, weights and dive guide services
BONUS GROUP INCLUSIONS (Min 8 Divers)
• Welcome drink upon arrival
• Complimentary lunch on last day of diving (provided by the dive shop)
• 1 x complimentary dive (if timing and weather conditions allow)
Price does not include
• Travel insurance, personal spending money and any excess luggage fees
• Equipment rental e.g. Twin tanks and manifolds | Nitrox, Oxygen and Helium
• Truk departure tax $30 USD per person – to be paid on departure
• Truk Lagoon dive permit $50 USD per person – to be paid on arrival
Group airfares Please be aware that this package is currently based on a group package airfare, to allow the use of these airfares a minimum group size of 10 people. If numbers are not reached, the package price will be recalculated accordingly.
Booking conditions and requirements
To secure your place on this trip, please complete an online booking form and return it together with a non-refundable deposit amount of $600. Package price is subject to change at anytime without notice due to 2023 supplier rate changes and USD exchange rates. See other terms and conditions as per the Dive Adventures website. www.diveadventures.com.au
NEW ZEALAND DIVING
Unit 2, 23 Morrison Drive, Warkworth, New Zealand
Ph: 09 422 3599
Email: dive@nzdiving.co.nz
Due to the limited number of places this trip will sell out fast . We advise to book now to avoid disappointment Deposits of $600 are being taken now to secure your place on the 2023 expedition. Full payment required 30 days before departure. This is a unique two stay combination providing you the best of Truk Lagoon.
DIVE CHARTER ITINERARY
Flight details: Planned route: for anyone traveling outside of New Zealand the central point to meet will be Sydney Airport. From here we expect to travel as a group. Flights can be arranged New Zealand Diving Ltd or by yourself. Please note it is important that the correct dates are met to ensure you are available for the sailing times of the charter. PLEASE NOTE THESE DATES ARE PROPOSED & CURRENTLY WAITING AIRLINE CONFIRMATION & MAYBE SUBJECT TO CHANGE. Final confirmation will be confirmed early 2023.
| | | |
| --- | --- | --- |
| Date | Travel |  Details |
| Wed 15 Nov 2023 |  Auckland | Sydney Transfer to hotel |  1620 |1800 NZ 109 1 night Sydney |
| | | |
| Thur 16 Nov 2023 |  Sydney | Port Moresby Port Moresby | Truk Transfer to hotel |  0810 | 1110 PX 2 1400 | 1700 PX 74 1 Night Truk Lagoon |
| | | |
| Fri 17 Nov to Wed 22 Nov 2023 to Fri 5 May 2023 |  6 days of diving (4 days of 2 x dives per day & 2 days of 3 x dives per day) |  6 Nights Truk Lagoon |
| | | |
| Thur 23 Nov 2023 |  Non diving day |  1 night Truk Lagoon |
| | | |
| Fri 24 Nov 2023 |  Truk | Port Moresby Port Moresby | Sydney Transfer to hotel |  0830 | 1130 PX75 1400 | 1855 PX1 1 night Sydney |
| | | |
| Sat 25 Nov 2023 |  Sydney | Auckland |  0955 | 1505 NZ 102 |
14 DIVE PACKAGE, EX-AUCKLAND  $5,656 PER DIVER
YOU MAY ALSO BE INTERESTED IN
New Zealand Diving have available a wide range of diving courses that will help enhance this trip. Each course will be available to take prior to the departure date, allowing you to maximise your dive time potential whilst in Truk. Alternatively we can run the course on the trip itself for your convenience.
Some course suggestions that will help maximise the potential of your dives are:
Deep Diving Specialty; Basic Nitrox; Adv Nitrox and Decompression Procedures; Advance Wreck Diving; Sidmount
Why not even take up underwater photography or video?
Contact us to explain what is involved in any of these courses. Phone 09 422 3599, or email us today.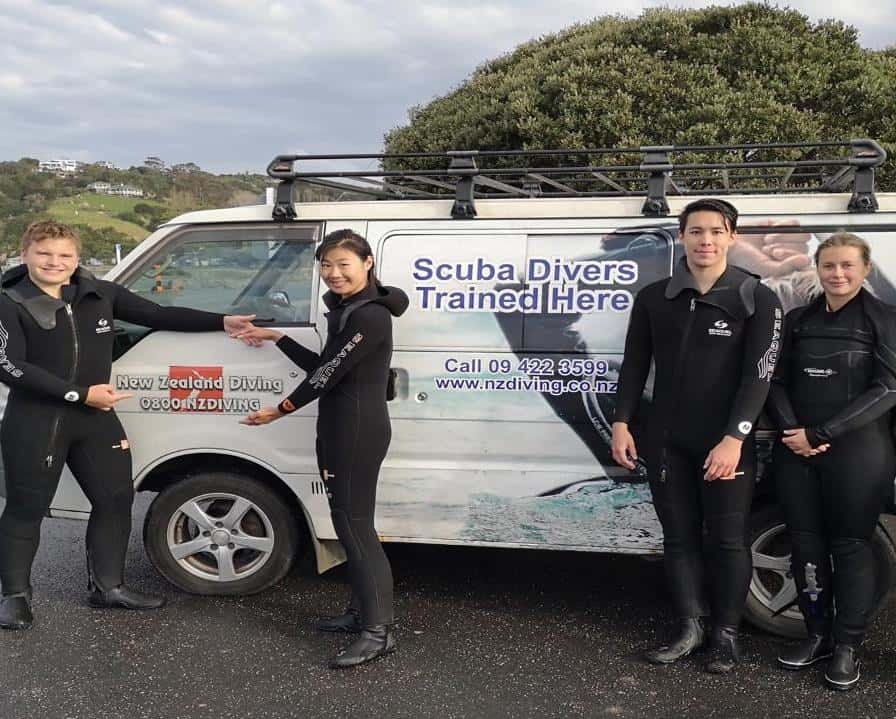 Come and dive the historic wrecks of Truk Lagoon. All resting within a short boat ride of each other, this represents one of the ultimate diving destinations.
Truk Lagoon Micronesia

Wreck Diving

11 Days

$5,656
Book Now
ADVANCED DIVER COURSE
"Elite Standard of Training, Thank you NZ Diving Looking forward to working together on the next step of my overall objective.
SCUBA DIVE CHARTER
"Neil and his crew were fantastic!! An awesome day with awesome people. Totally recommend!!
WEEKEND WRECK CHARTER
"We were well looked after on our Wreck Dive and had a great time with top notch banter from Neil and his team"
OPEN WATER COURSE
" Completed 3 day course a month ago with my 18yr daughter. Would absolutely connect with this company in the future to dive again!! Thanks Neil!!"
HAMMERHEAD EXPERIENCE
" Professional, Informative, Amazing and Fun, What more could you want!? "
ENQUIRE TODAY
Please contact us using the enquiry form below, if you would like to know more about any diving options featured on our website. Interested in a particular course? Need help with finding suitable diving equipment? Or, any other questions that you may have? Please use this contact form to get in touch with us.