Vanuatu is an archipelago of 83 islands with a unique blend of intact tribal communities, resorts, beaches and geography, ranging from accessible volcanoes to pristine underwater environments, offering unique and memorable experiences. Vanuatu offers a variety of dive sites, from easy protected waters to shallow reefs and deeper drop-offs, with running currents bringing in the pelagic species. The landscape above water mirrors that below, with mountainous terrain and plunging cliffs, grottoes and overhangs, huge caves and intricate interconnecting underwater tunnels and chasms formed by frozen lava.
The highlight for many divers in Vanuatu is the S.S. President Coolidge, a luxury liner used as a troop ship during WWII. This impressive wreck – 198 metres long and 33,450 gross tonnage – is one of the largest accessible wrecks anywhere in the world. With munitions, military supplies and personal belongings scattered across the ocean floor and of course the famous 'Lady and the Unicorn' this dive is not to be missed. Not far away is another amazing dive site, 'Million Dollar Point,' where the US Navy dumped tonnes of valuable machinery and supplies after the war.
DIVE TOUR HIGHLIGHTS
ACCOMMODATION
Village de Santo is a beautiful Vanuatu resort on the island of Espiritu Santo, offering modern and spacious accommodation surrounded by lush tropical gardens. Village de Santo was a finalist at the 2014 Westpac Vanuatu Tourism Awards for Excellence Best Boutique Resort.
Meticulously maintained inside and out, our boutique resort is perfect for family holidays, romantic retreats. Conveniently situated just five minutes' drive from Luganville town and only five minutes' walk to Segon Canal. Visit nearby islands, villages, exquisite beaches or even take a tranquil canoe ride up the river until you reach the magnificent Blue Holes that are unique to Santo.
The 16 semi self-contained apartments and grounds are in 5 star conditions.
Deluxe Village suites have been built in true modern Melanesian style showcasing Santo's local hardwoods and the skill of local builders. Suites are fully screened with timber louvers providing natural airflow. Both the mezzanine level and ground floor feature an open plan design with private balconies, overlooking the crystal clear pool. The Chiefs Bar overlooks the pool and is the spot to chill or chat to other guests.
Dive groups have the added bonus of a secured wash down and storage area for all equipment. All the local dive companies offer our guest complementary transfers to all dive sites.
The onsite Restaurant "1606" serves modern cuisine with a tropical twist. Enjoy weekly entertainment on Tuesday and Saturday nights.
Accommodation is based on two people sharing; there will be additional charges for single rooms.
One additional night will be spent in a hotel the capital, Port Villa, on the return journey due to flight schedules.
DIVE TOUR DETAILS & INCLUSIONS
PACKAGE INCLUDES
8 Nights accommodation at the Village de Santo
10 Dive Package including single tanks & weights
Excluded are all flights:  A group package has been arranged with Air Vanuatu and are currently available for approximately $900nz, including Vanuatu domestic and return flights. These prices are subject to change.
DIVE CHARTER ITINERARY
DIVES
All of our dives are from the convenience of a boat rather than walking from the shore. The dive package includes 10 dives over 5 days:
Three days/six dives on the President Coolidge
In addition a further two days/four dives are included to dive outer reefs and possible the shipwrecks USS Tucker and Tui Tawaite.
The trip includes tanks and weights. The following options are available at extra charge.
Twin set tanks are available
Stage tanks are also available
Mixed gases Nitrox and Trimix
These must all be ordered in advance.
YOU MAY ALSO BE INTERESTED IN
DIVE COURSES
We will be offering the following courses on location:
TDI Advanced Wreck – full wreck penetration.
Check out our website for the pre-requisite requirements details on these courses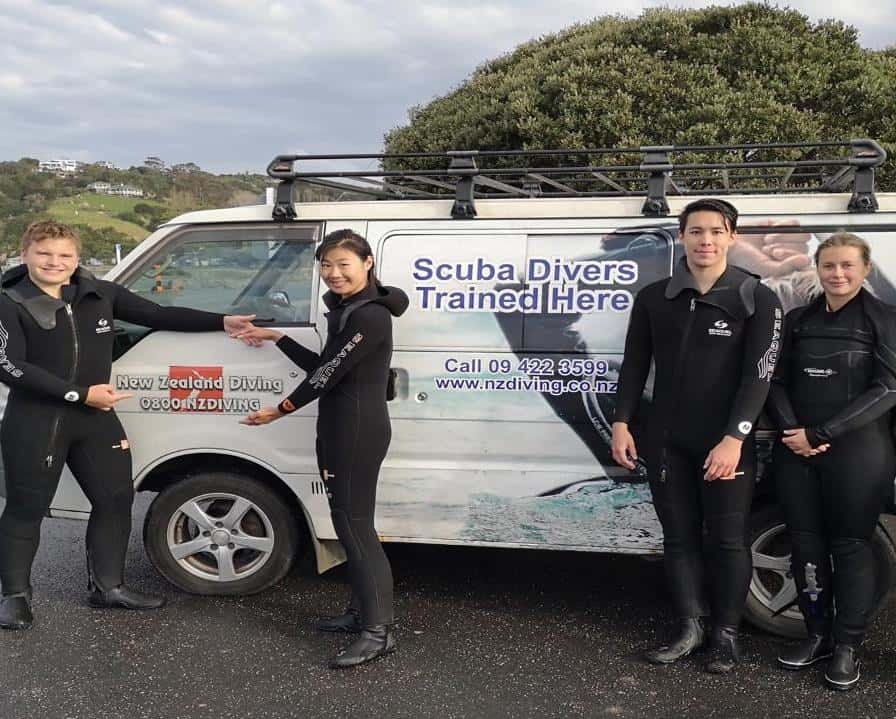 Join us and come to dive the President Coolidge and the reefs of Vanuatu. See the history of the island and it's beauty.
Espritu Santo, Vanuatu

Wreck & reef dives

11 days

Price options
Book Now
ADVANCED DIVER COURSE
"Elite Standard of Training, Thank you NZ Diving Looking forward to working together on the next step of my overall objective.
SCUBA DIVE CHARTER
"Neil and his crew were fantastic!! An awesome day with awesome people. Totally recommend!!
WEEKEND WRECK CHARTER
"We were well looked after on our Wreck Dive and had a great time with top notch banter from Neil and his team"
OPEN WATER COURSE
" Completed 3 day course a month ago with my 18yr daughter. Would absolutely connect with this company in the future to dive again!! Thanks Neil!!"
HAMMERHEAD EXPERIENCE
" Professional, Informative, Amazing and Fun, What more could you want!? "
ENQUIRE TODAY
Please contact us using the enquiry form below, if you would like to know more about any diving options featured on our website. Interested in a particular course? Need help with finding suitable diving equipment? Or, any other questions that you may have? Please use this contact form to get in touch with us.