DIVE HMNZS TUI & WAIKATO
NZ DIVING NAVEL SHIPWRECKS
The HMNZS Tui & Waikato shipwrecks are large navy vessels specifically prepared for adventure diving before being sunk at diver friendly depths with purposely cut access and exit points allowing exploration of guns, bridges, control areas, helicopter hangar, engine rooms, cabins, and crew areas.
DIVE TOUR HIGHLIGHTS
THE HMNZS TUI
The former HMNZS Tui is resting at a depth of approximately 32m of water. The Tui is now broken into three main sections and rapidly becoming part of the reef itself. She makes for an interesting and scenic dive, however, her location can be a little exposed to winds and current. There are currently no marker buoys locating her position and surface support is required.
She began life as the Charles H Davis working on Hydrographic research for an American university.
For the last 17 years of her working life she was leased out by the United States Navy to become the HMNZS Tui, deployed on naval hydrographic work. She was also sent to Mururoa to observe the last series of French Nuclear bomb tests in the South Pacific, and became the unofficial mothership to a large international protest fleet.
The Tui was gifted to Tutukaka Coast Promotions after long negotiations, prepared for her new role as a dive attraction and sunk off Tutukaka on the 20th of February 1999.
THE HMNZS WAIKATO
The frigate ex HMNZS Waikato was built by Harland and Wolff in Belfast, Ireland, launched on February 18 1966, and commissioned into the Royal New Zealand Navy on September 5, 1966.
At 113.4m long, 12.5m beam and a draft of 5.5m she was the first of the Leander class frigates built for the navy. She had a top speed of 30 knots, and was powered by twin steam turbines developing 30,000hp.
The Waikato was armed to the teeth, sporting twin 4.5in guns in the turret, two 20mm Orlikeon machine guns on the wings, a quad Seacat anti-aircraft missile launcher, six 12.75m anti-submarine torpedo tubes, one anti-submarine warfare Limbo mortar Mark 10 and a Wasp Helicopter capable of delivering depth charges and the Mark 46 anti-submarine torpedo.
She served the RNZ Navy until decommissioning in 1998. Tutukaka Coast won the tender and prepared the ship for divers during 1999/2000. Finally the ship was sent to her final resting place on the 25th of November 2000 in a world record time of 2 min 40 seconds.
She now rests in water 28-30m deep to the sand and approximately 15-20m to the starboard side of the wreck.
The Waikato is now broken into two sections, resting on her port side. She provides an easy penetration dive often with clear water, making her an ideal training site.
DIVE TOUR DETAILS & INCLUSIONS
The two wreck sites are in close proximity to each other. One dive will be conducted on each.
The Tui is broken down and provides a 32m dive. She is a very scenic dive with the wreck now blending into the surrounding reef.
In contrast the Waikato is fairly intact although the bow is broken off, she still resembles a ship. The Waikato also sits at approximately 32-35m depth. Large parts of the wreck is assessable to divers
DIVE CHARTER ITINERARY
Our day starts at the marina in Tutukaka. Divers meet at around 09:00 to head out to the wreck site.
One dive is conducted in the morning and one in the afternoon. A surface interval will be conducted in between.
Dives will be taken at two different wrecks during the day. Customers can expect to be back at Tutakaka by 16:00.
If you are excited about wreck diving then why not book our unique Wreck Weekend 3 day liveaboard tour and stay overnight. Up to four dives a day are possible. You wiil get to dive the Tui & Waikato & a whole lot more.
Food and accommodation are included in the price.
If you are interested in taking your Wreck Diver certification then please contact us and we will be glad to help you
WHAT TO BRING
Remember to bring an appropriate change of clothes, lunch or snacks, water and sunscreen. Dive gear is provided.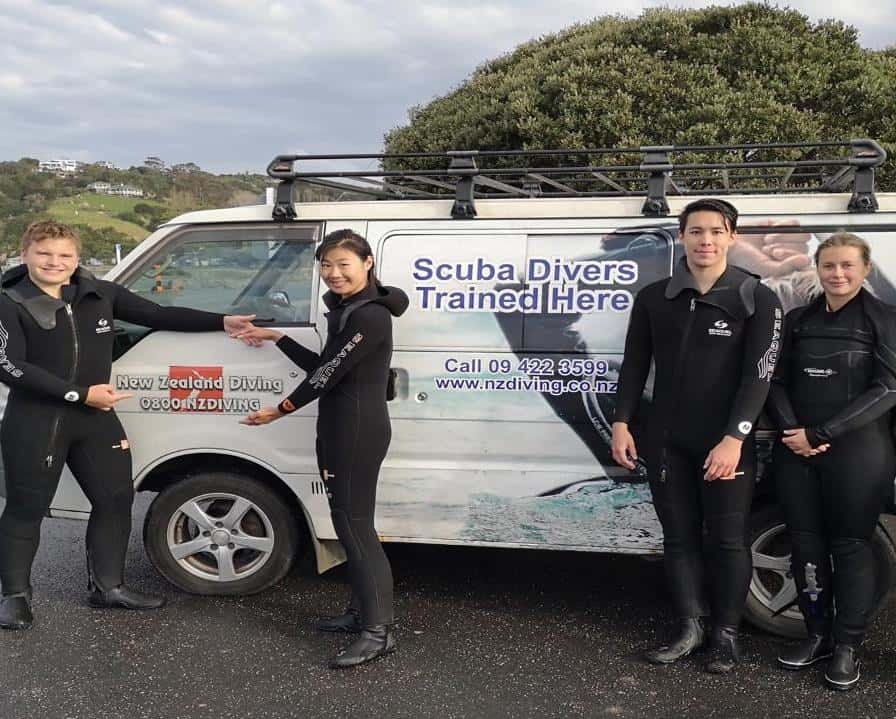 Join us diving both the Tui & Waikato shipwrecks. these are two very different wreck sites, providing completely different contrasting dives. One tank dive is available on each wreck
Warkworth, North Island, New Zealand

HMNZS Waikato & Tui Shipwreck Diving

1 Day

$300.00
Book Now
3 Day Liveaboard Wreck Weekend
ADVANCED DIVER COURSE
"Elite Standard of Training, Thank you NZ Diving Looking forward to working together on the next step of my overall objective.
SCUBA DIVE CHARTER
"Neil and his crew were fantastic!! An awesome day with awesome people. Totally recommend!!
WEEKEND WRECK CHARTER
"We were well looked after on our Wreck Dive and had a great time with top notch banter from Neil and his team"
OPEN WATER COURSE
" Completed 3 day course a month ago with my 18yr daughter. Would absolutely connect with this company in the future to dive again!! Thanks Neil!!"
HAMMERHEAD EXPERIENCE
" Professional, Informative, Amazing and Fun, What more could you want!? "
ENQUIRE TODAY
Please contact us using the enquiry form below, if you would like to know more about any diving options featured on our website. Interested in a particular course? Need help with finding suitable diving equipment? Or, any other questions that you may have? Please use this contact form to get in touch with us.
Error: Contact form not found.