DIVING DESTINATION COMBO
MULTI PACKAGE CHARTERS
Our Diving Destination Combo has been designed with you in mind!
Come & experience the beautiful & unique dive sites of the Hauraki Gulf. We have created a special package that combines four of the top destinations for you to try. Here at New Zealand Diving we are convinced once you have dived these you will be back for more! The pricing has been arranged for you to have a unique opportunity to experience the Hauraki Gulf & her true wonders.
DIVE TOUR HIGHLIGHTS
Here at New Zealand Diving we are convinced once you have dived these you will be back for more! If you are truly into diving and want to see the stunning marine life this country has to offer then just see below what we have installed for you to dive.
THE DIVING DESTINATION COMBO
Poor Knights Islands
1. Top of our list is the famous Poor Knights Islands: Ranked as a top world dive destination this is a must to do dive experience & should be on every divers bucket list. Here you will be able to dive the stunning arches & get to witness the flights of majestic stingrays as they glide past you.
Little Barrier Island
2. Little Barrier Island: Now an extinct volcano, travelling to Little Barrier is like stepping into Jurassic Park. The location is stunning and the diving doesn't disappoint. Depending on the time you travel you may even see the Hammerhead migrations! This is one of the many amazing spectacles in terms of wildlife you can see in New Zealand. Outside of the Hammerhead season Little Barrier has plenty of fish and beautiful scenery.
Hen Islands
3. Hen Island: A completely contrasting dive site to little Barrier, offering amazing underwater topography & plenty of diverse fish life. The spearfishing divers love this area due to the abundance & variety. At the Hen there are so many pinnacles to dive & arches to squeeze through, you will not be short of adventure & fun!
Goat Island
4. Finally you will be introduced to our two local main reserves: Goat Island is the oldest in New Zealand & we will take you to the remote areas away from any crowds. Alternatively, dive in the newest reserve, Tawharanui, here you will see the nests of Crayfish & Rays that frequent this site. Both of these sites have much to offer and are uniquely different from each other. They make a great check-out site for anyone a little rusty or traveling to our new climates.
To help understand more about our fantastic Ecosystem here in New Zealand we have arranged online Marine Ecology courses available for you to take. These are fun, easy to do & open to all ages. Why not learn about what you will see?
DIVE TOUR DETAILS & INCLUSIONS
THE DEAL
Our Diving Destination Combo package includes gear hire with two tank dives per trip & a ride on our charter boat Midnight Diver.
The dives can be spread over a period of time to fit in with your travel plans, they do not have to be taken in four consecutive days but they must be used within one year of purchase. Our terms & conditions apply & all divers must be certified to a minimum of open water, and be fit & healthy. Each trip is a full day with different departure points so be sure to check in with us and confirm times & locations.
The pricing has been arranged for you to have a unique opportunity to experience the Hauraki Gulf & her true wonders. We have generously provided four trips for the price of three, including rental equipment. Select book now to purchase this combination package, or select the link to each individual destination to find out the schedules for a particular destination.
DIVE CHARTER ITINERARY
This is a flexible multi-purchase package that is designed to allow you to receive a loyalty discount when you buy this package. The booking is easy, you can book your 4 x charters over a 12 month period. You do not have to book four days in a row.
So long as you keep within the 12 month period your trips are safe from weather and a busy life.
When you are ready – book your charter. There is a schedule for you to choose from.
WHAT TO BRING
Remember to bring an appropriate change of clothes, lunch or snacks, water and sunscreen. Dive gear is provided. Don't forget your underwater camera if you have one!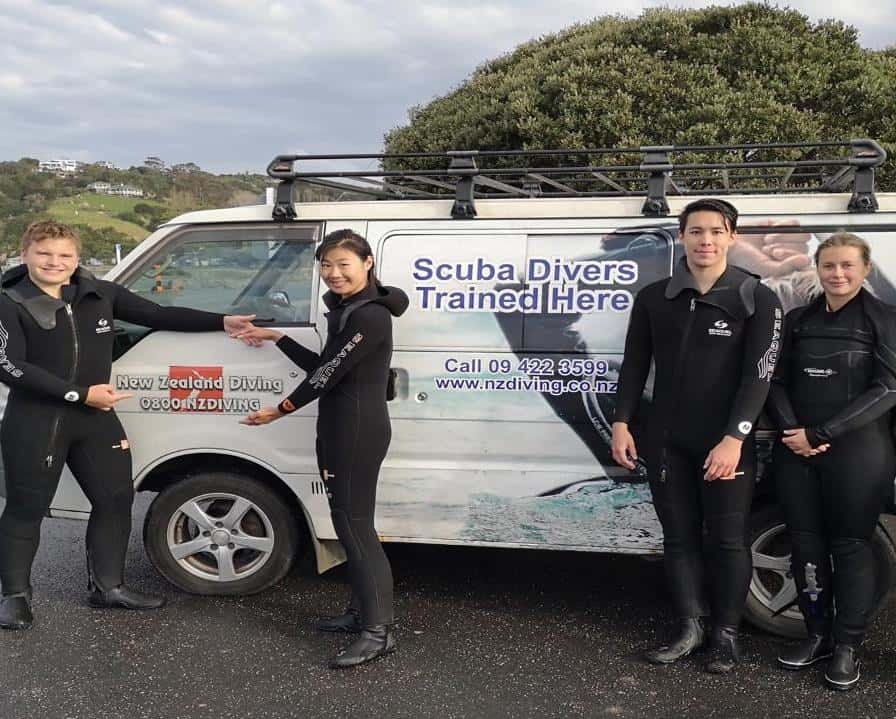 This a multi-package purchase for four great dive charters. Flexible booking options are available to you
Warkworth, North Island, New Zealand

Diving Destination Combo

4 Days (approx)

$890.00
Book Now
ADVANCED DIVER COURSE
"Elite Standard of Training, Thank you NZ Diving Looking forward to working together on the next step of my overall objective.
SCUBA DIVE CHARTER
"Neil and his crew were fantastic!! An awesome day with awesome people. Totally recommend!!
WEEKEND WRECK CHARTER
"We were well looked after on our Wreck Dive and had a great time with top notch banter from Neil and his team"
OPEN WATER COURSE
" Completed 3 day course a month ago with my 18yr daughter. Would absolutely connect with this company in the future to dive again!! Thanks Neil!!"
HAMMERHEAD EXPERIENCE
" Professional, Informative, Amazing and Fun, What more could you want!? "
ENQUIRE TODAY
Please contact us using the enquiry form below, if you would like to know more about any diving options featured on our website. Interested in a particular course? Need help with finding suitable diving equipment? Or, any other questions that you may have? Please use this contact form to get in touch with us.