AIRBORNE PATHOGENS
DEALING WITH COVID
The Airborne Pathogens Workplace Training Course was created to provide the user with the knowledge they need to get back to work in a safe manner after Covid19.
The training is comprehensive. It covers everything from how a virus spreads to utilizing personal protective equipment (PPE) and even documentation and cleaning procedures. Most importantly, it was created in an easy to digest format, where employees can move at their own pace (typically takes one hour to complete) to ensure they understand exactly what will be expected of them going forward.
First Response Training is offering this training to your employees, you will be able to verify that they have the knowledge needed to return to the workplace. They will feel safe, knowing you value their health as much as your business. And your customers will have peace of mind, knowing you are taking the necessary precautions to make sure they are protected as well.
To help our communities, we're offering this program at no charge for the foreseeable future.
COURSE HIGHLIGHTS
Protect yourself at work
Airborne Pathogens can spread quickly. Because of this, it is important to learn the correct techniques and behaviors needed in order to prevent catching or further spreading illness.
This course was designed to give employers and employees the tools needed to reasonably protect themselves and the public from contracting and spreading pathogens in the workplace.
What you'll learn:
How to protect yourself and others from airborne pathogens
How to safely interact with others in the workplace
Types of protective equipment
Proper cleaning procedures to avoid the spread of pathogens
Information on vaccines and treatment of illnesses
How to document incidents in the workplace
COURSE DETAILS & INCLUSIONS
How you will benefit:
Get back to business
Improve workplace safety by ensuring both employers and employees are using the correct techniques and equipment to prevent the spread of airborne pathogens
Certification lets customers know they can count on your business to follow the proper procedures
Protect yourself and your business from liability by proving you are taking necessary precautions
Keep your business running smoothly by limiting the number of sick staff members at any given time
First Response courses are modular and designed to work together. Additional courses you may wish to consider using in conjunction with this first aid course are:
Bloodborne pathogens in relation to infections transmitted from bodily fluids
Oxygen Administration particularly useful for the scuba & freediving disciplines & required under many of these certifications.
All of the First Response courses are available as online course for distance learning. Students are encouraged to complete the online material prior to attending the classroom course.
What you will get:
Those who successfully complete the course will earn a certificate of completion from First Response Training International.
The typical course duration is about one hour for completion.
COURSE ITINERARY
How to take this course
There are two components to your training in order to receive your certification. The first is academics and the second is skills. You must first pass your academics training to proceed to the second phase and work with an instructor in a classroom setting.
Step 1
Academics. We offer two options to complete your academics (eLearning or printed manual). To get started with eLearning, just book your course below and you'll be off and running. If you prefer a manual, contact us and we will ship one to you.*
Once you have completed your academics, you can begin your classroom training with a local instructor.
Step 2
Classroom. Once you have selected your course date & location visit our training center to complete the skills portion of your training.
Once you complete your academics and classroom training, you will be issued a certification. You will then be a certified provider for this course.
For more information about this and other courses offered by us and First Response Training please visit: www.firstresponse-ed.com or contact us.
WHAT TO BRING
Once you have completed the online theory just contact us and book yourself onto the practical session.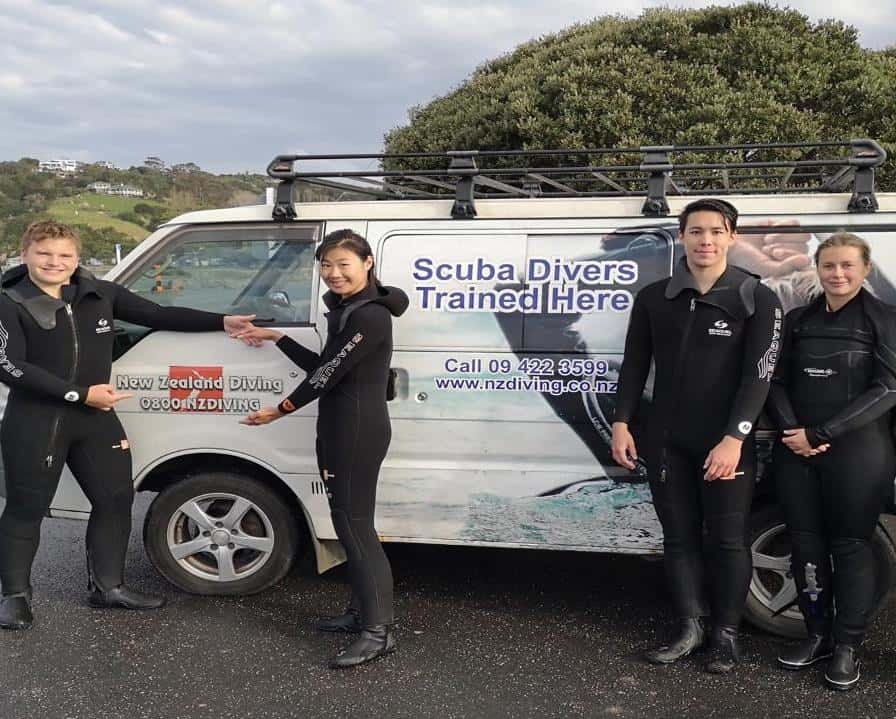 Learn how to protect yourself & family against airborne viruses such as Covid19
Warkworth, North Island, New Zealand

Airborne Pathogens

4 hours

Currently FREE - at the discretion of First Response and subject to change
Book Now
ADVANCED DIVER COURSE
"Elite Standard of Training, Thank you NZ Diving Looking forward to working together on the next step of my overall objective.
SCUBA DIVE CHARTER
"Neil and his crew were fantastic!! An awesome day with awesome people. Totally recommend!!
WEEKEND WRECK CHARTER
"We were well looked after on our Wreck Dive and had a great time with top notch banter from Neil and his team"
OPEN WATER COURSE
" Completed 3 day course a month ago with my 18yr daughter. Would absolutely connect with this company in the future to dive again!! Thanks Neil!!"
HAMMERHEAD EXPERIENCE
" Professional, Informative, Amazing and Fun, What more could you want!? "
ENQUIRE TODAY
Please contact us using the enquiry form below, if you would like to know more about any diving options featured on our website. Interested in a particular course? Need help with finding suitable diving equipment? Or, any other questions that you may have? Please use this contact form to get in touch with us.