DIVE OUR MARINE RESERVE
GOAT ISLAND / TAWHARANUI MARINE RESERVE
The Tawharanui Marine Reserve was established in September 2011. The 400 hectare marine reserve replaces the existing Tawharanui Marine Park, which has been a no take fishing area since 1981. The reserve allows marine life to flourish. You don't have to swim far to find a nest of crayfish all sitting there blatantly, as if they know they are safe. Tawharanui is a perfect dive site for beginners to feel safe and enjoy the dive while those more advanced will always find something new to admire. Come and book on a charter with New Zealand Diving to experience our fabulous underwater world. We offer a one day dive charter to Tawharanui marine reserve which includes two dives.
Why not take advantage of our destination combo and include this tour in your selection!
DIVE TOUR HIGHLIGHTS
EXPERIENCE GOAT ISLAND NEW ZEALAND'S FIRST MARINE RESERVE
New Zealand's first marine reserve, better known as Goat Island was created in 1975 and officially opened in 1977.
Goat Island or Te Hāwere-a-Maki is a tiny island (approximately 1 hectare or 2.5 acres) in New Zealand located close to the North Island coast, north of Auckland, northeast of Warkworth, and directly west of Little Barrier Island. It is within Cape Rodney-Okakari Point Marine Reserve.
The island is spiritually significant to the local Māori tribe, Ngāti Manuhiri, because their ancestral waka (canoe), Moe Karaka, is said to have landed nearby
Famous for its big Snapper, blue Maomao and many other species of fish in easy access to shore. On the exposed side of Goat Island there is a drop off which offers a variety of life or you can dive in the more sheltered eastern side of Goat island. Its suits all abilities and is a perfect way to relax and take in the amazing underwater environment.
The marine reserve is ideal for children to experience snorkelling and see marine life in numbers not seen anywhere else on the coast.
DIVE TOUR DETAILS & INCLUSIONS
New Zealand Diving offers a one day charter to our marine reserves with two Dives. Dive from our boat Midnight diver and get to see areas unreachable from the shore. See the wild side of Goat Island.
This an excellent site for beginners and those wishing to refresh their dive skills. New to diving if you want to try a dive – this is a perfect place to do it!
Meeting at our dive centre, we will then head out to Omaha boat ramp to launch to the dive sites. Depending on the weather conditions we choose a marine reserve to dive. It is possible to dive both on one day.
You can SAVE money if you have your own gear, which you can purchase directly from our online store as we have some GREAT offers. If you prefer you can come to the shop and get some professional advice so we can help set you up for the future.
Alternatively, contact us directly if you already have your own gear, or you just need tanks and weights for the dive.
Why not take advantage of our unique multi -combination charter package and dive several locations at a discounted price? Select the button below to view details.
DIVE CHARTER ITINERARY
Our day starts meeting at New Zealand Diving in Warkworth. Divers meet at around 08:30 to head out to the launch site
One dive is conducted in the morning and one in the afternoon. A surface interval will be conducted in between.
Dives will be taken at two different sites during the day. Customers can expect to be back at Omaha by 15:00.
WHAT TO BRING
Remember to bring an appropriate change of clothes, lunch or snacks, water and sunscreen. Dive gear is provided upon request.
GOAT ISLAND & TAWHARANUI MARINE RESERVES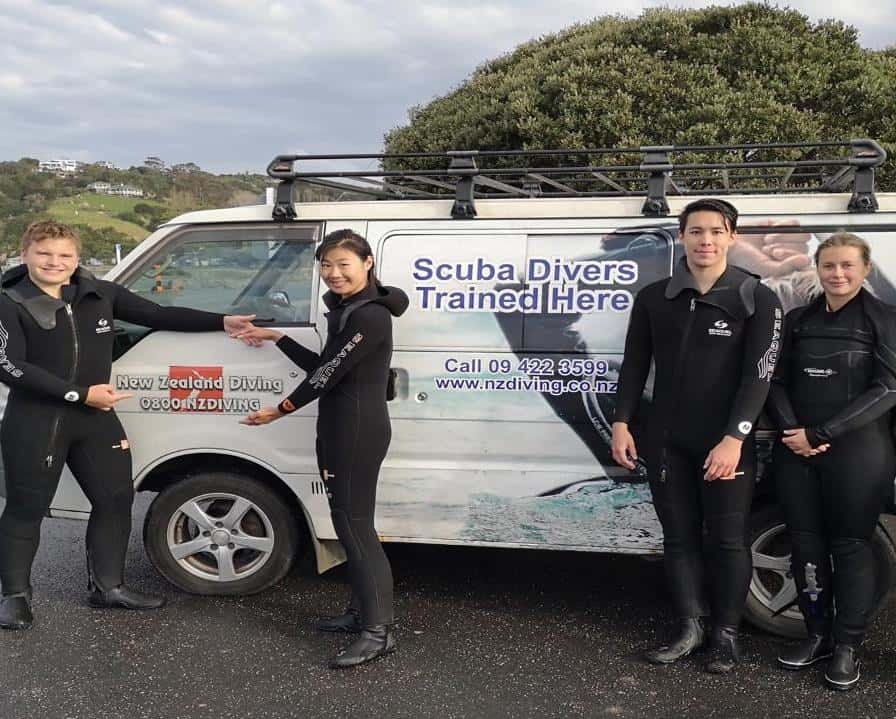 Our two marine reserves are situated next to each other and just a short distance from our dive centre. Goat Island is the oldest in New Zealand and Tawharanui the youngest., both are very different from each other and the best diving is from a boat. Get to dive away from all the tourists and explore the seldom seen areas of both of the reserves.
Warkworth, North Island, New Zealand

Goat Island/Tawharanui Marine Reserve Dive Charter

1 Day

$204.00
Book Now
Combo Book Now
ADVANCED DIVER COURSE
"Elite Standard of Training, Thank you NZ Diving Looking forward to working together on the next step of my overall objective.
SCUBA DIVE CHARTER
"Neil and his crew were fantastic!! An awesome day with awesome people. Totally recommend!!
WEEKEND WRECK CHARTER
"We were well looked after on our Wreck Dive and had a great time with top notch banter from Neil and his team"
OPEN WATER COURSE
" Completed 3 day course a month ago with my 18yr daughter. Would absolutely connect with this company in the future to dive again!! Thanks Neil!!"
HAMMERHEAD EXPERIENCE
" Professional, Informative, Amazing and Fun, What more could you want!? "
ENQUIRE TODAY
Please contact us using the enquiry form below, if you would like to know more about any diving options featured on our website. Interested in a particular course? Need help with finding suitable diving equipment? Or, any other questions that you may have? Please use this contact form to get in touch with us.