SSI OPEN WATER DIVER
LEARN TO DIVE
This globally-recognized open water certification program is the best way to begin your life-long adventure as a certified scuba diver. Personalized training is combined with in-water practice sessions to ensure you have the skills and experience required to become truly comfortable underwater.
You will earn the SSI Open Water Diver certification and and learn to love the ocean from a completely new perspective.
DIVE COURSE HIGHLIGHTS
What You Learn
The SSI Open Water Diver course consists of three main phases:
Knowledge Development (online, home study or in a classroom ) to understand basic principles of scuba diving
Confined Water Dives to learn basic scuba skills
Open Water Dives to review your skills and explore!
Why get certified?
You get to embark on the of the greatest adventures you will ever experience. Becoming an open water scuba diver marks the first step in a journey that will change the way you experience the world. You can explore and experience the wonder of feeling weightless, interact with incredible marine life and discover wrecks only open to those who become divers. Becoming certified gives you a license to explore our true last frontier: the ocean
DIVE COURSE DETAILS & INCLUSIONS
COURSE PREREQUISITES:
A reasonable standard of swimming ability is required for entry into the open water course, meaning candidates:
— must be able to swim ~200m confidently — must be able to tread water for ten minutes — must be over the age of 11
WHAT YOU CAN EXPECT TO LEARN:
Designed to deliver you with an entry-level certification, these courses cover all the necessary skills needed as a diver, including:
Physics and physiology (buoyancy, pressure, air spaces, breathing)
The aquatic environment (vision, light, sound, heat loss, tides, currents)
Equipment (selection, assembly, use, maintenance)
Planning (location, gear, rescue and emergency procedures)
DIVE COURSE ITINERARY
Facts about the course
| | |
| --- | --- |
| Minimum Age: | 10 |
| Certification Prerequisites: | None |
| Academic Sessions: | Online Program |
| Pool/Confined Water Sessions: | 6 |
| Open Water Dives: | 4 |
| Maximum Training Depth: | 18 meters / 60 feet (age 15+) |
| Suggested Duration: | 16 – 32 hours |
The Diver Diamond methodology
Each of our Specialty Programs is based on our  diver diamond methodology
Diver Diamond is the cornerstone of the SSI educational system. It emphasizes the critical components of a great scuba education program: Proper knowledge, Proper Skills, Proper Equipment and Proper Experience. The diver diamond is the foundation for the Ultimate Dive Experience.
At SSI, they don't want you to just learn to dive; they want you to become a diver. Their goal is to make every step of your scuba experience all about your comfort and confidence in the water. SSI professionals work together to make learning come alive with personalized instructions that will put your skills to use in reality based training scenarios. The unique approach is known as "Comfort through repetition". By practicing each skill learned throughout each level of training your actions become conditioned responses – second nature!
Repetition ensures you retain what you have already learned while continuing to learn more. As a result, diving becomes more fun.
Open water courses have the following training options for the confined pool session:
A. Evening course: Training is held over two evenings from 6pm to 9pm for the confined pool sessions, with the open water dives held over two days
B. Three day course: All of the course is run over three consecutive days
WHAT TO BRING
While New Zealand Diving will provide all necessary diving equipment, you will need to bring swimwear, a towel, lunch/snacks, water, a change of clothes to each session and sunscreen (if required).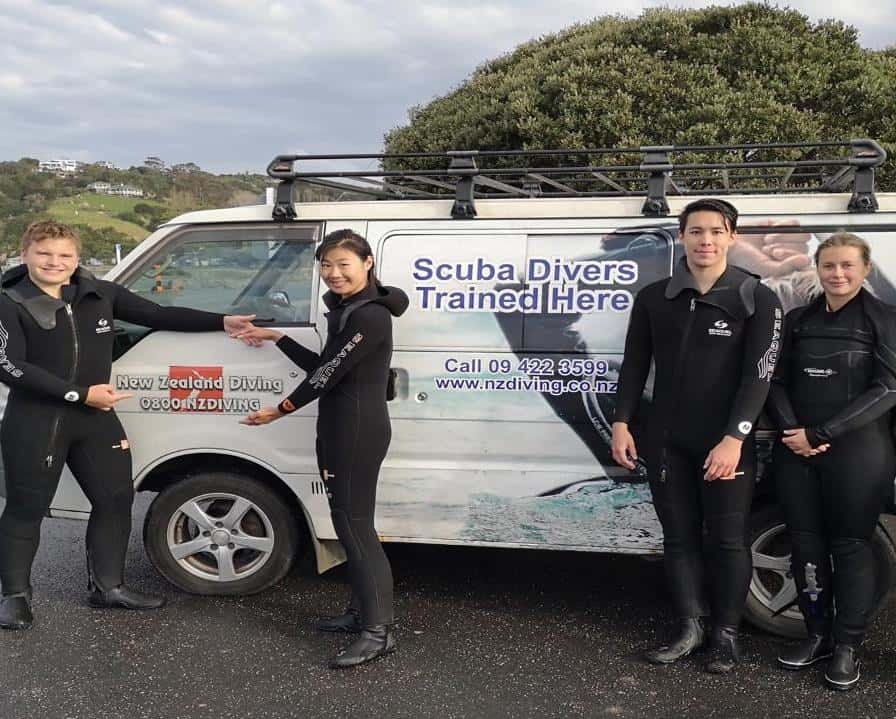 This is SSI's open water course and the entry level certification. Gain a world -wide recognised certificate in diving.
Warkworth, North Island, New Zealand

SSI Open Water Course

3 day OR 2 day & 2 evenings option

$699
Book Now - Evening
Book Now - 3 Day
ADVANCED DIVER COURSE
"Elite Standard of Training, Thank you NZ Diving Looking forward to working together on the next step of my overall objective.
SCUBA DIVE CHARTER
"Neil and his crew were fantastic!! An awesome day with awesome people. Totally recommend!!
WEEKEND WRECK CHARTER
"We were well looked after on our Wreck Dive and had a great time with top notch banter from Neil and his team"
OPEN WATER COURSE
" Completed 3 day course a month ago with my 18yr daughter. Would absolutely connect with this company in the future to dive again!! Thanks Neil!!"
HAMMERHEAD EXPERIENCE
" Professional, Informative, Amazing and Fun, What more could you want!? "
ENQUIRE TODAY
Please contact us using the enquiry form below, if you would like to know more about any diving options featured on our website. Interested in a particular course? Need help with finding suitable diving equipment? Or, any other questions that you may have? Please use this contact form to get in touch with us.