DECOMPRESSION PROCEDURES DIVER
STAGED DECOMPRESSION DIVING
The TDI Decompression Procedures Diver course prepares you for planned staged decompression diving. With a maximum operating depth of 45m/150 feet, this course is your first step beyond the normal sport diving limits. Your TDI Instructor will provide you with valuable information and skills'
DIVE COURSE HIGHLIGHTS
Are you finding your no- decompression limits (NDLs) a limiting factor to dives? Do you have to ascend sooner than you would like? As sport divers, planned decompression is not something that we do or have been taught.The TDI Decompression Procedures Course prepares you for planned staged decompression diving. With a maximum operating depth of 45 metres/150 feet, this course is your first step beyond the normal sport diving limits. The TDI Decompression Procedures Course combined with the TDI Advanced Nitrox course form the foundation of all other technical courses. After these two courses and some additional experience, the stage has been set for you to move onto additional technical levels.
Who this course is for:
The certified Advanced Diver looking to expand their knowledge of decompression theory and diving techniques
The certified Advanced Diver who is interested in extending their bottom time
The certified Advanced Diver who has interest in moving forward with technical diving education
An alternative Advanced Nitrox & Decompression Procedures combination course is available which will reduce combination costs and time. See our booking schedule
DIVE COURSE DETAILS & INCLUSIONS
What you can expect to learn:
Decompression dive planning including:

Decompression gas choices
Tables vs. personal dive computers
Emergency and contingency planning (equipment failure, omitted decompression, etc.)

Decompression diving procedures

Equipment selection
Pre-dive checks and drills
Stress analysis and mitigation
Following a decompression schedule
Gas switching
Team awareness and communication
SMB/lift bag deployment

Proper trim, buoyancy and finning techniques
Emergency procedures (equipment failures, catastrophic gas loss, omitted decompression, navigational errors, etc.)
Equipment considerations, cylinder labeling, analyzing nitrox mixtures, and gas blending procedures
What's in it for you?
Ability to conduct decompression diving activities without direct supervision provided:

The diving activities approximate those of training
The areas of activities approximate those of training
Environmental conditions approximate those of training

Ability to enroll in TDI Advanced Nitrox, TDI Extended Range, TDI Advanced Wreck, TDI Trimix courses
DIVE COURSE ITINERARY
Course prerequisites:
Minimum age 18
Minimum certification of SDI Advanced Adventure Diver, Advanced Diver, or equivalent
Proof of 25 logged open water dives
TDI Decompression Diver minimum certification requirements:
Satisfactorily complete the TDI Decompression Procedures course written examination
Complete all open water requirements safely and efficiently
Demonstrate mature, sound judgment concerning dive planning and execution
WHAT TO BRING
While New Zealand Diving will provide all necessary diving equipment, you will need to bring sunscreen, swimwear, a towel, and a change of clothes to each session.
DECOMPRESSION PROCEDURES DIVER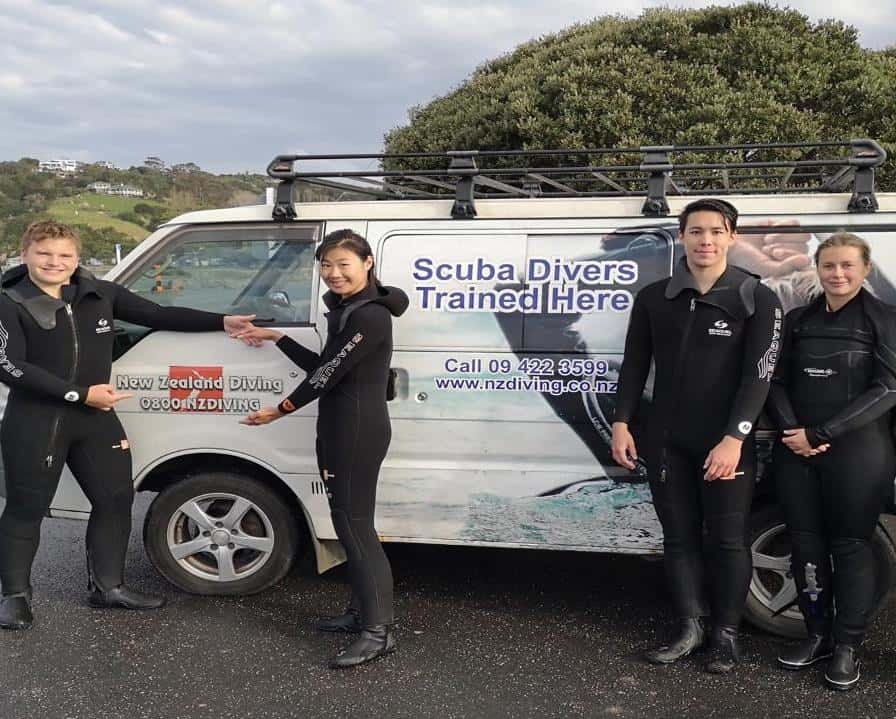 Advanced Nitrox certification can be combined with the Decompressions Procedures certification to reduce course costs and time
Warkworth, North Island, New Zealand

TDI Decompression Procedures

3 Days

$1100
Book Now
Adv Nitrox & Decompressions Procedure Combo
ADVANCED DIVER COURSE
"Elite Standard of Training, Thank you NZ Diving Looking forward to working together on the next step of my overall objective.
SCUBA DIVE CHARTER
"Neil and his crew were fantastic!! An awesome day with awesome people. Totally recommend!!
WEEKEND WRECK CHARTER
"We were well looked after on our Wreck Dive and had a great time with top notch banter from Neil and his team"
OPEN WATER COURSE
" Completed 3 day course a month ago with my 18yr daughter. Would absolutely connect with this company in the future to dive again!! Thanks Neil!!"
HAMMERHEAD EXPERIENCE
" Professional, Informative, Amazing and Fun, What more could you want!? "
ENQUIRE TODAY
Please contact us using the enquiry form below, if you would like to know more about any diving options featured on our website. Interested in a particular course? Need help with finding suitable diving equipment? Or, any other questions that you may have? Please use this contact form to get in touch with us.