DIVEMASTER COURSE
BECOME A PROFESSIONAL
The Divemaster Course is the first professional-level certification. During the course, you will learn how to work with divers, lead certified divers, and act as a dive guide showing divers underwater dive sites and the marine life that inhabits those dives sites. You will increase your knowledge about physics and physiology, as well as increase your proficiency with your scuba and snorkelling skills. You will get to learn how to guide dives, assists on courses and charters. Once completed, you will be ready to enrol on the instructor courses. 
All Divemaster students dive free on our local charters throughout their course period to help them increase their hours and skill levels.
Whilst minimum hours required to complete the course is 40, students often train for 70+ to ensure they have a firm grounding on becoming dive professionals. 
See SDI for more details
This course also requires the O2 Administration and a First Aid certification
DIVE COURSE HIGHLIGHTS
The Divemaster Course takes an in-depth look at all of the following, and more: 
Standards and procedures
SDI History
Divemaster Code of ethics and professionalism
Products and procedures
Placing orders
Yearly renewals
Liability and insurance
Risk management
Waivers and releases
Filling out an accident report
Knowledge Development
Equipment
Physics and physiology of diving
Medical problems related to diving
Use of dive computers and tables
Diving environment
Dive planning and dive management control
Problem solving
Underwater and surface communications
Diver assistance
Avoiding out of air and emergency situations
Recommended safe diving practices
Boat diving procedures
Shore/beach diving procedures
Night diving procedures
Accident management
Emergency procedures
Leadership development
Planning group dives
Divemaster check lists and logs
DIVE COURSE DETAILS & INCLUSIONS
Course prerequisites:
Certified Advanced Adventure or equivalent: advanced certification must include verifiable

 

experience in deep, navigation, night, and limited visibility specialities;
Certified Rescue Diver or equivalent;
Provide proof of current CPR, First Aid, and oxygen provider (where local law permits);
Provide proof of at least 40 logged dives;
Be at least 18 years of age.
What you can expect to learn:
The Divemaster course will teach you to demonstrate:
A non-stop 800 metre swim with mask, snorkel, and fins without the use of arms, completed in less than 17 minutes
A non-stop 400 metre surface swim of any stroke without the use of swimming aids, completed in less than 10 minutes.
Scuba equipment skills necessary for a Dive Leader.
Transport another diver in-water in full scuba equipment, and at a quick pace for 4 minutes.
A complete rescue scenario
Underwater skills, with and without a mask
A 100-metre surface swim in full scuba equipment, using the snorkel.
How to bring a diver, simulating unconsciousness, up from a depth not greater than 6 metres, them 100 metres in less than 4 minutes.
Confined water skills
Preparation and planning
Briefing and debriefing
Group control
Problem recognition and solving
Dive equipment assembly and disassembly
Appropriate equipment inspection
Navigating entries/exits
Proper weighting and buoyancy control
Snorkel and regulator clearing
Regulator recovery
Controlled descents and ascents
Underwater swimming
Mask clearing
Buddy system techniques
Weight system removal and replacement
Out-of-air emergency alternatives
Equipment care and maintenance
DIVE COURSE ITINERARY
Contact New Zealand Diving about our Divemaster Course schedules.
WHAT TO BRING
While New Zealand Diving will provide all specialised diving equipment, it is advisable to be prepared with the standard set of dive gear. We will be happy to assist you in in-house packages that will benefit your course.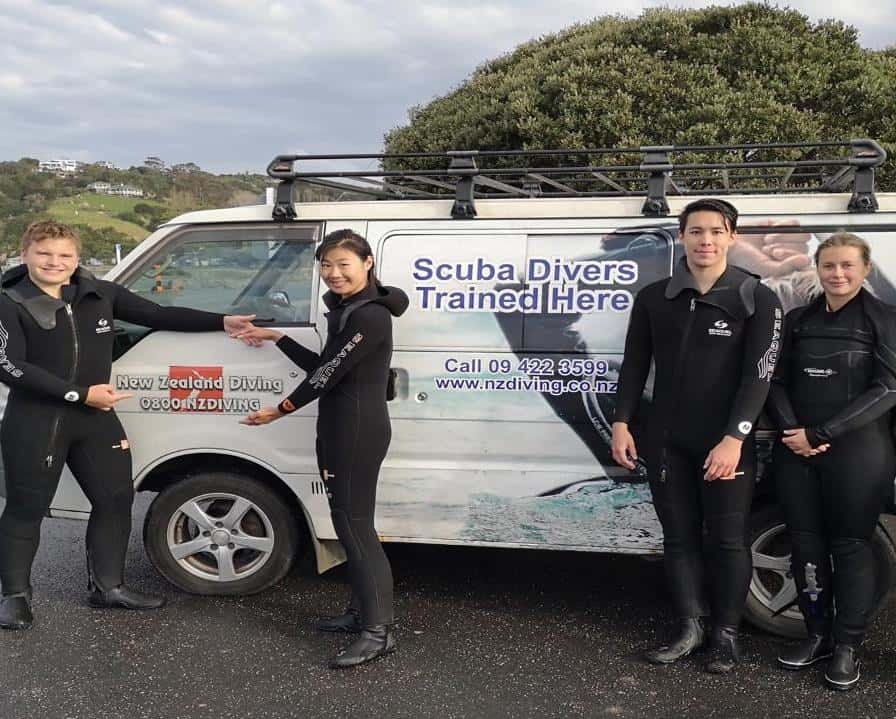 The Divemaster certification is the first professional level in the world of scuba diving. You learn to guide on charters and assist on courses. Your skills will need to be of instructor standard and your knowledge equally as good.
Our courses are spread over a period of time and have many additional benefits. Contact us and become the best you can be.
Warkworth, North Island, New Zealand

SDI Divemaster

Contact for Details

$1760
Book Now
ADVANCED DIVER COURSE
"Elite Standard of Training, Thank you NZ Diving Looking forward to working together on the next step of my overall objective.
SCUBA DIVE CHARTER
"Neil and his crew were fantastic!! An awesome day with awesome people. Totally recommend!!
WEEKEND WRECK CHARTER
"We were well looked after on our Wreck Dive and had a great time with top notch banter from Neil and his team"
OPEN WATER COURSE
" Completed 3 day course a month ago with my 18yr daughter. Would absolutely connect with this company in the future to dive again!! Thanks Neil!!"
HAMMERHEAD EXPERIENCE
" Professional, Informative, Amazing and Fun, What more could you want!? "
ENQUIRE TODAY
Please contact us using the enquiry form below, if you would like to know more about any diving options featured on our website. Interested in a particular course? Need help with finding suitable diving equipment? Or, any other questions that you may have? Please use this contact form to get in touch with us.