OPEN WATER COURSE
LEARN TO SCUBA DIVE
Thanks to New Zealand Diving, the start of your underwater journey is closer than ever before. With two thirds of the Earth's surface covered by water, our oceans, lakes, and rivers are crucial parts of our ecosystem, and foster their own dynamic world. And yet, for all this importance, we've barely broken the surface. You may have swum or snorkelled before, but now, with NZ Diving's open water courses, it's time to see the underwater world as it's meant to be seen — from within!
DIVE COURSE HIGHLIGHTS
What's in it for you:
SDI's open water courses plunge you into a bold new world. Giving you access to a dynamic underwater ecosystem, you will be treated to everything the sea has to offer; whether you long to swim alongside sea creatures or survey a sunken wreck. After you advance through theory learning and water training, you'll complete stunning open-water location dives at local marine reserves, meaning that no matter which direction your deep-sea passion lies, it begins here.
DIVE COURSE DETAILS & INCLUSIONS
COURSE PREREQUISITES:
A reasonable standard of swimming ability is required for entry into the open water course, meaning candidates:
— must be able to swim ~200m confidently — must be able to tread water for ten minutes — must be over the age of 11
WHAT YOU CAN EXPECT TO LEARN:
Designed to deliver you with an entry-level certification, these courses cover all the necessary skills needed as a diver, including:
— Physics and physiology (buoyancy, pressure, air spaces, breathing)
— The aquatic environment (vision, light, sound, heat loss, tides, currents) — Equipment (selection, assembly, use, maintenance)
— Planning (location, gear, rescue and emergency procedures)
DIVE COURSE ITINERARY
Your underwater adventure starts here! NZ Diving has two options for you to complete your open water diving course.
Option one: Enjoy three jam-packed days designed to advance your diving skills. Your diving course takes place over 3 days mid-week so that you can complete the pool sessions and open water dives to ensure you master all the necessary skills for your internationally recognised certification.
Option two: Our evening and weekend course, where the confined pool training sessions occur over two evenings from 6pm, and the open water dives are held over two days at the weekend to ensure you master all the necessary skills for your internationally recognised certification.
We also run day courses during the school holidays for students.
You will need to complete the academic learning at home before joining the pool sessions.
WHAT TO BRING
While New Zealand Diving will provide all necessary diving equipment, you will need to bring swimwear, a towel, lunch/snacks, water, a change of clothes to each session and sunscreen (if required).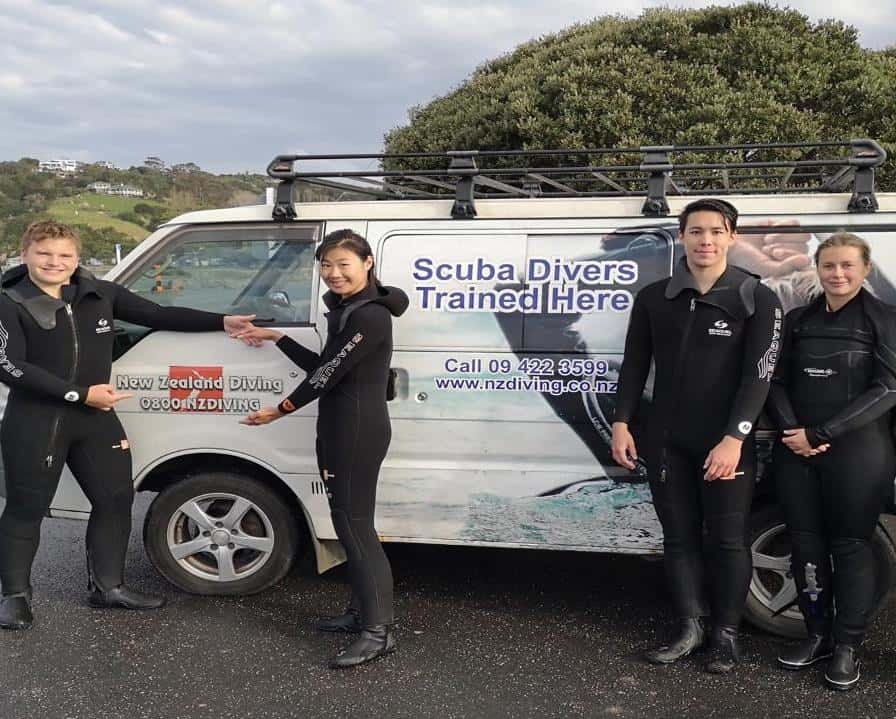 THEORY Online Study
CONFINED WATER  1 day
OPEN WATER 2 days
NUMBER OF DIVES 4 x open water dives
Warkworth, North Island, New Zealand

SDI Open Water Course

Options:- 3 days OR 2 days + 2 evenings

$625
Book Now Evening
Book Now -3 Days
ADVANCED DIVER COURSE
"Elite Standard of Training, Thank you NZ Diving Looking forward to working together on the next step of my overall objective.
SCUBA DIVE CHARTER
"Neil and his crew were fantastic!! An awesome day with awesome people. Totally recommend!!
WEEKEND WRECK CHARTER
"We were well looked after on our Wreck Dive and had a great time with top notch banter from Neil and his team"
OPEN WATER COURSE
" Completed 3 day course a month ago with my 18yr daughter. Would absolutely connect with this company in the future to dive again!! Thanks Neil!!"
HAMMERHEAD EXPERIENCE
" Professional, Informative, Amazing and Fun, What more could you want!? "
ENQUIRE TODAY
Please contact us using the enquiry form below, if you would like to know more about any diving options featured on our website. Interested in a particular course? Need help with finding suitable diving equipment? Or, any other questions that you may have? Please use this contact form to get in touch with us.