History of the Rewa
The Rewa began her life in September 1889 as the Alice A.Leigh, a 3,000 ton four-masted steel barque built by the Whitehaven Shipbuilding Company, Cumbria, UK.
Rewa ran the typical trades of the large four-masters, taking bulk cargoes from India and Australia to London, and to the Pacific coast of North America. She visited Australia for the first time in Feb.1895
DIVE TOUR HIGHLIGHTS
Renamed Rewa, she made her last major voyage to London via the Cape of Good Hope in 103 days, with a load of wool. She returned to Newcastle in ballast in 93 days, and loaded coal and sleepers for Auckland. She arrived in Auckland in August 1922 on her final voyage
Finally a storm put paid to that endeavour and she ended up scuttled near the shore of Moturekareka Island near Kawau (June 1930). Easy to get to and just a short boat ride from the marina. This is a popular training site, well sheltered and protected from any currents and deep depths. She is an ideal site for those wishing to learn how to wreck dive.
Today she is a popular tourist site and still recognisable as the ship she once use to be. Although a very shallow dive she makes for a good training site for both scuba divers and freedivers alike.
Her decks have long gone and parts of her masts lay out into the bay. Many of the steel plates have gone from her side, exposing the ribs and allowing easy access into the centre of her hull.
There are no overhead penetration areas of concern and the bottom depth in the hull is shallow.
In good light and visibility conditions she is a very pretty dive, excellent for photographers.
If you would like to learn how to dive shipwrecks, then take a look at our wreck diving courses.
DIVE COURSE DETAILS & INCLUSIONS
Our single day charters include two tank dives from our boat Midnight Diver. Dive gear is provided to all of our customers.
If you are excited about wreck diving then why not book our Wreck Diver certification.
The Rewa is a great destination and can be dived as part of our Advanced Diver programme
DIVE CHARTER ITINERARY
To enquire about this charter, contact us via email or call us on 09 422 3599
WHAT TO BRING
Remember to bring an appropriate change of clothes, lunch or snacks, water and sunscreen. Dive gear is provided.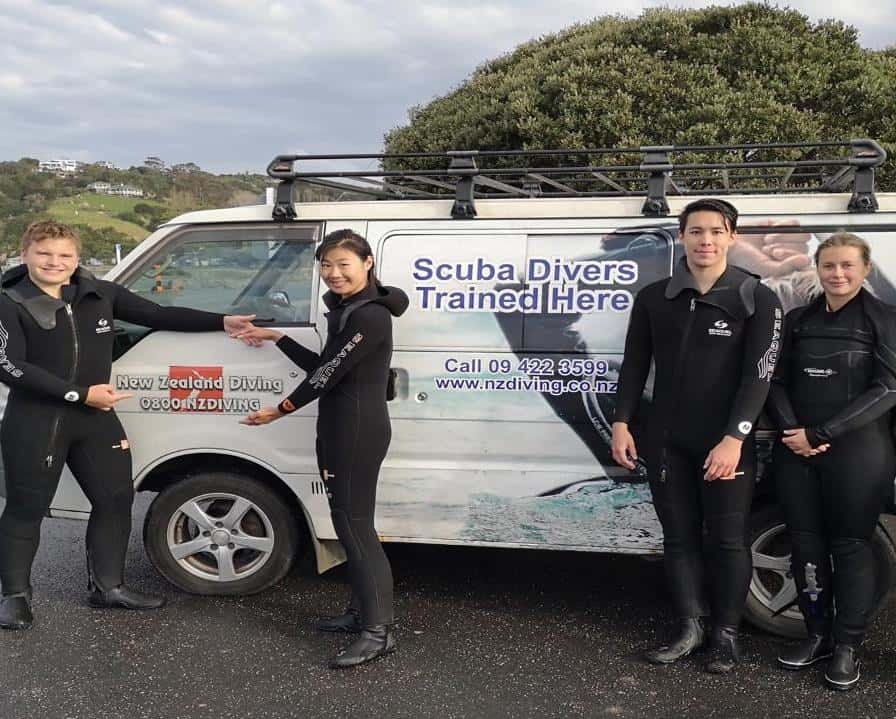 Our local shipwreck the Rewa just outside of Sandspit. You can dive her on a local dive charter
Warkworth, North Island, New Zealand

Rewa shipwreck dive - local charter

1 Day

$204
ENQUIRE NOW
ADVANCED DIVER COURSE
"Elite Standard of Training, Thank you NZ Diving Looking forward to working together on the next step of my overall objective.
SCUBA DIVE CHARTER
"Neil and his crew were fantastic!! An awesome day with awesome people. Totally recommend!!
WEEKEND WRECK CHARTER
"We were well looked after on our Wreck Dive and had a great time with top notch banter from Neil and his team"
OPEN WATER COURSE
" Completed 3 day course a month ago with my 18yr daughter. Would absolutely connect with this company in the future to dive again!! Thanks Neil!!"
HAMMERHEAD EXPERIENCE
" Professional, Informative, Amazing and Fun, What more could you want!? "
ENQUIRE TODAY
Please contact us using the enquiry form below, if you would like to know more about any diving options featured on our website. Interested in a particular course? Need help with finding suitable diving equipment? Or, any other questions that you may have? Please use this contact form to get in touch with us.
Error: Contact form not found.