FREEDIVING COURSES
LEARN HOW TO FREEDIVE
Are you keen in experiencing the enchantment of the sea using only your fin kicks and a single breath? Then let SSI introduce you to the captivating wonder that only comes with FREEDIVING. From clear freshwater lakes to warm tropical oceans, this course offers something for everyone.
Immerse yourself into a personal challenge, be suspended in exhilarating action, or settle into the calm and peaceful rhythms of the ocean. Whichever experience you seek, SSI will prepare you for the "Ultimate Freediving Experience"!
Are you ready for the ultimate way to explore underwater? Start freediving and experience the ocean in an exciting new way as you explore pristine dive sites on a single breath. With no heavy equipment, you will move underwater with ease and find a complete sense of becoming one with the ocean. Learning to freedive is much easier than you think with our range of recreational freediving programs for all ages.
New Zealand Diving can offer you the following Scuba Schools International freediving course.
After you have completed your training why not join us on a spearfishing charter to put your skills to the test & bring home the bounty.
BASIC FREEDIVING Course
Prerequisites:
Be 18 years of age or older (14 years with parent or guardian consent)
Be able to swim at least 200m non-stop without fins or buoyancy device.
Requirements:
| | |
| --- | --- |
| Academic Sessions: | Online training |
| Pool/Confined Water Sessions: | Varies |
| Open Water Dives: | None |
| Maximum Training Depth: | 5 meters / 15 feet |
| Suggested Duration: | 6 – 8 hours |
Our schedules are available to view when you select the book now below. Alternatively call us on 09 422 3599
DIVE COURSE HIGHLIGHTS
During this entry-level program, you will learn all you need to freedive safely with a buddy in a pool/confined waters up to a depth of 5 meters. Online training is combined with in-water practice sessions in this program, to give you all the skills and knowledge you need. Upon completion of the program, you will earn your SSI Basic Freediving certification.
DIVE COURSE DETAILS & INCLUSIONS
During the course you will learn skills needed to Freedive, which includes:
Relaxation & Breathing techniques; Static Apnea; Surfacing dynamics; Finning techniques; Body positioning & Equipment preparation.
Important emphasise is placed on safety aspects such as Shallow Water Blackouts; Recovery techniques, Cramp , Equalisation & Saving other divers..
Plenty of time will be provided for you to try these skills for yourself in the safety of a confined environment with your instructor.
DIVE COURSE ITINERARY
The confined pool session takes approximately 3-4 hours.
Should those of you wish, there is an additional option of joining our spearfishing charter and put your new skills into practice.
WHAT TO BRING
You will need to bring your swimming costumes with you.
Please bring a Freediving or Spearfishing wetsuit, fins, mask, snorkel and weight belt. These are available from our shop online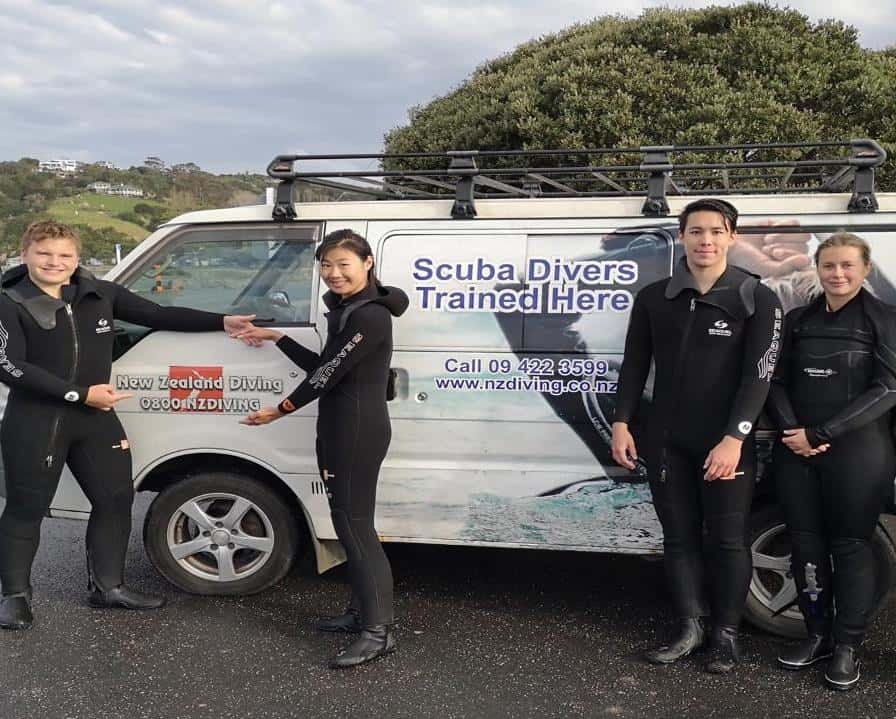 Includes Online theory and one day confined water training with the additional option of joining a spearfishing charter
Warkworth, North Island, New Zealand

SSI Basic Freediving course

5 hours, optional day or evening schedules

$241
Book Now
ADVANCED DIVER COURSE
"Elite Standard of Training, Thank you NZ Diving Looking forward to working together on the next step of my overall objective.
SCUBA DIVE CHARTER
"Neil and his crew were fantastic!! An awesome day with awesome people. Totally recommend!!
WEEKEND WRECK CHARTER
"We were well looked after on our Wreck Dive and had a great time with top notch banter from Neil and his team"
OPEN WATER COURSE
" Completed 3 day course a month ago with my 18yr daughter. Would absolutely connect with this company in the future to dive again!! Thanks Neil!!"
HAMMERHEAD EXPERIENCE
" Professional, Informative, Amazing and Fun, What more could you want!? "
ENQUIRE TODAY
Please contact us using the enquiry form below, if you would like to know more about any diving options featured on our website. Interested in a particular course? Need help with finding suitable diving equipment? Or, any other questions that you may have? Please use this contact form to get in touch with us.