SSI TRY SCUBA
LOOKING FOR UNDERWATER ADVENTURE?
There is nothing like SCUBA diving! Its much easier than you think and Try SCUBA entry level program will prepare you to participate in this new sport that awaits you. Explore the magical world of the  big blue ocean like you have never seen it before!
You will earn the SSI Try SCUBA recognition card and and learn to love the ocean from a completely new perspective.
Your Try Scuba Diving recognition card will be your first step in starting your career as a certified diver. If you decide to become an Open Water Diver within the first six months, your Try Scuba open water dive will be recognized as one of the required dives.
Why complete the Try SCUBA certification?
You get to embark on the of the greatest adventures you will ever experience.
In order to truly enjoy your first underwater experience, an SSI Dive professional will teach you everything you need to know and under their guidance, you will learn the skills you need to enjoy this first experience underwater.
DIVE COURSE HIGHLIGHTS
Getting started
Getting started is easy. Simply download the free DiveSSI app and you will see that SSI has mastered the uses of technology to make your learning experiences easy and fun. Once signed up for the open water program you will be registered in ODiN (SSI's Online Divers Information Network). Then you can learn interactively and at your own pace, whenever and wherever you want with the DiveSSI
DIVE COURSE DETAILS & INCLUSIONS
What You Learn
The SSI Try Scuba Diving course consists of two phases:
Knowledge Development (online, home study or in a classroom ) to understand basic principles of scuba diving
Confined Water Dives to learn basic scuba skills
The Scuba Gear You Use
Learn all about your scuba gear with SSI scuba lessons. In the SSI Try SCUBA Diver course, you learn to use basic scuba gear including a dive computer, and standard accessories. The equipment you wear varies somewhat, depending upon whether you're diving in tropical, temperate or cold water
DIVE COURSE ITINERARY
Facts about the course
| | |
| --- | --- |
| Minimum Age: | 8 |
| Certification Prerequisites: | None |
| Academic Sessions: | Try Scuba Pool |
| Pool/Confined Water Sessions: | 1 |
| Open Water Dives: | 0 |
| Maximum Training Depth: | 5 meters / 15 feet |
| Suggested Duration: | None |
The Diver Diamond methodology
Each of our Specialty Programs is based on our  diver diamond methodology
Diver Diamond is the cornerstone of the SSI educational system. It emphasizes the critical components of a great scuba education program: Proper knowledge, Proper Skills, Proper Equipment and Proper Experience. The diver diamond is the foundation for the Ultimate Dive Experience.
At SSI, they don't want you to just learn to dive; they want you to become a diver. Their goal is to make every step of your scuba experience all about your comfort and confidence in the water. SSI professionals work together to make learning come alive with personalized instructions that will put your skills to use in reality based training scenarios. The unique approach is known as "Comfort through repetition". By practicing each skill learned throughout each level of training your actions become conditioned responses – second nature!
Repetition ensures you retain what you have already learned while continuing to learn more. As a result, diving becomes more fun.
WHAT TO BRING
Check with New Zealand Diving about the gear you'll use during this course. You can find most everything at our diving shop or our online shop.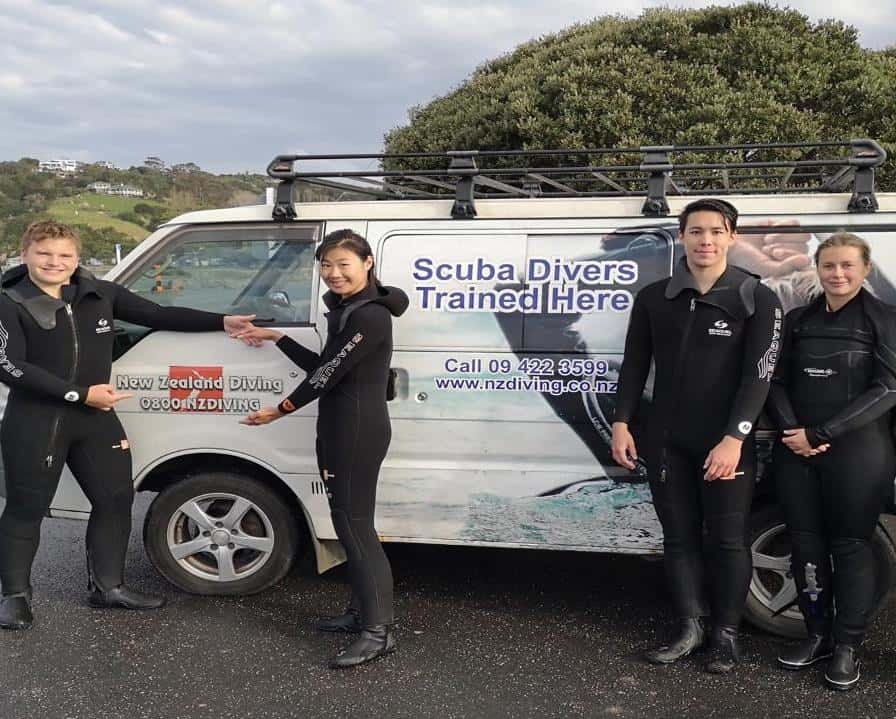 Find out if scuba diving is for you
Warkworth, North Island, New Zealand

SSI Try Scuba

1 day

$275
Book Now
ADVANCED DIVER COURSE
"Elite Standard of Training, Thank you NZ Diving Looking forward to working together on the next step of my overall objective.
SCUBA DIVE CHARTER
"Neil and his crew were fantastic!! An awesome day with awesome people. Totally recommend!!
WEEKEND WRECK CHARTER
"We were well looked after on our Wreck Dive and had a great time with top notch banter from Neil and his team"
OPEN WATER COURSE
" Completed 3 day course a month ago with my 18yr daughter. Would absolutely connect with this company in the future to dive again!! Thanks Neil!!"
HAMMERHEAD EXPERIENCE
" Professional, Informative, Amazing and Fun, What more could you want!? "
ENQUIRE TODAY
Please contact us using the enquiry form below, if you would like to know more about any diving options featured on our website. Interested in a particular course? Need help with finding suitable diving equipment? Or, any other questions that you may have? Please use this contact form to get in touch with us.