ADVANCED TRIMIX DIVER
AS DEEP AS YOU CAN GO
The TDI Advanced Trimix Diver course is the top level of training for open circuit divers wishing to dive to depths as deep as 100 m / 330 feet utilizing hypoxic levels of oxygen (below 17 percent). This course is perhaps one of the most informative and challenging and upon completion you are among some of the most elite divers.
Check out our Advanced wreck course and see what you can achieve.
DIVE COURSE HIGHLIGHTS
Who this course is for:
The TDI Extended Range or Trimix Diver looking to:

Extend their depth range
Advance their technical diving education
Upon completion, you will be among some of the most elite divers, capable of doing and seeing more while diving than any other divers out there.
Your TDI Instructor will teach you
Equipment management
Multiple stage cylinder labeling and placement
Complex decompression planning and contingency planning
Dive team awareness and communication
Gas monitoring and management
Use of travel gasses
DIVE COURSE DETAILS & INCLUSIONS
What you can expect to learn:
Advanced decompression dive planning including:

Gas planning based on equivalent narcotic depths, nitrogen and helium absorption and elimination, CNS and OTU limits, isobaric counter diffusion, volume requirements, etc.
Use of hypoxic gasses
HPNS and isobaric counter diffusion
Decompression gas choices
Tables vs. personal dive computers
Emergency and contingency planning (equipment failure, omitted decompression, etc.)

Decompression diving procedures

Equipment selection
Pre-dive checks and drills
Stress analysis and mitigation
Following a decompression schedule
Gas switching
Team awareness and communication
SMB/lift bag deployment

Proper trim, buoyancy and fining techniques
Management of multiple (minimum of 3) decompression/stage cylinders
Emergency procedures (equipment failures, catastrophic gas loss, omitted decompression, navigational errors, injured/unconscious diver, etc)
Equipment considerations, cylinder labeling, analyzing trimix nitrox and mixes, and gas blending procedures
DIVE COURSE ITINERARY
Course prerequisites:
Minimum age 18
Minimum certification of TDI Extended Range or Trimix Diver or equivalent
Show proof of 100 logged dives, 25 must be deeper than 30metres/100feet
TDI Advanced Trimix minimum requirements:
Satisfactorily complete the TDI Advanced Trimix course written examination with a passing score of 80%, followed by 100% remediation by the instructor
Complete all open water requirements safely and efficiently
Demonstrate mature, sound judgment concerning dive planning and execution
WHAT TO BRING
Students will need to contact us to discuss what equipment will be required on the course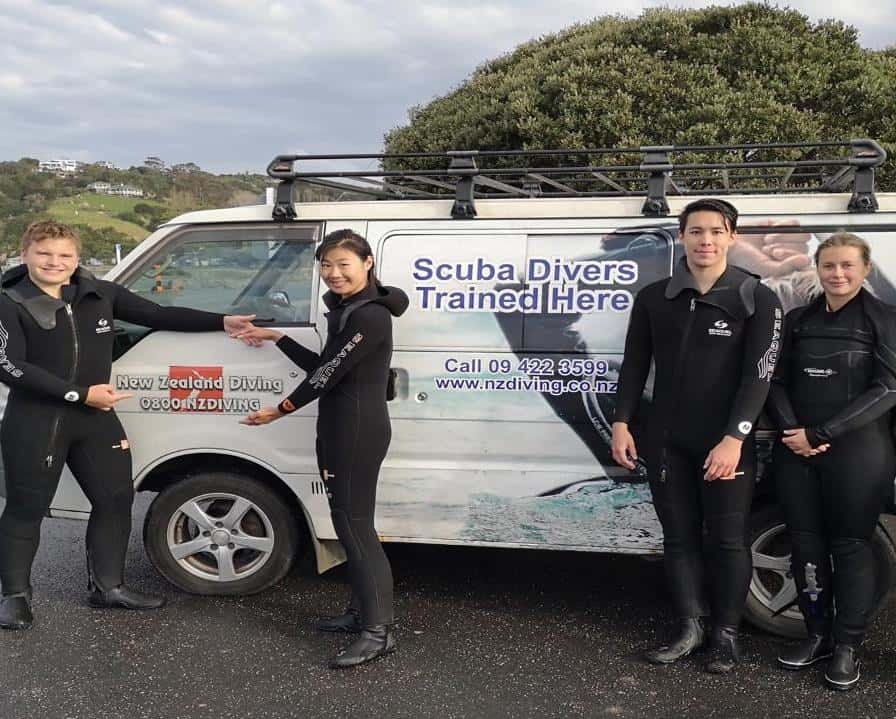 TDI's top level training courses designed to take you to 100m.
Warkworth, North Island, New Zealand

TDI Advanced Trimix Course

4 Days

$1800
ENQUIRE NOW
ADVANCED DIVER COURSE
"Elite Standard of Training, Thank you NZ Diving Looking forward to working together on the next step of my overall objective.
SCUBA DIVE CHARTER
"Neil and his crew were fantastic!! An awesome day with awesome people. Totally recommend!!
WEEKEND WRECK CHARTER
"We were well looked after on our Wreck Dive and had a great time with top notch banter from Neil and his team"
OPEN WATER COURSE
" Completed 3 day course a month ago with my 18yr daughter. Would absolutely connect with this company in the future to dive again!! Thanks Neil!!"
HAMMERHEAD EXPERIENCE
" Professional, Informative, Amazing and Fun, What more could you want!? "
ENQUIRE TODAY
Please contact us using the enquiry form below, if you would like to know more about any diving options featured on our website. Interested in a particular course? Need help with finding suitable diving equipment? Or, any other questions that you may have? Please use this contact form to get in touch with us.