SSI FREEDIVING LEVEL 1 PROGRAM
LEARN HOW TO FREEDIVE
The SSI Freediving Level 1 program is the best first step to take and certifies you to freedive with a buddy in open water to a depth of 20 meters. If you do not have time for our Freediving Level 1 program, join the SSI Basic Freediving program and get certified to freedive safely with your buddy in a pool or confined water up to a depth of 5 meters. You can upgrade easily to the Freediving Level 1 certification at any time. If you love freediving, which we know you will, continue your journey with our freediving specialty programs and discover competitive freediving and more.
New Zealand Diving can offer you the following Scuba Schools International freediving course.
After you have completed your training why not join us on a spearfishing charter to put your skills to the test & bring home the bounty.
LEVEL 1 FREEDIVING Course
Prerequisites:
Be 18 years of age or older (12 years with parent or guardian consent)
Be able to swim at least 200m non-stop without fins or buoyancy device.
Requirements:
| | |
| --- | --- |
| Academic Sessions: | Online training |
| Pool/Confined Water Sessions: | 2 Sessions |
| Open Water Dives: | 2 Sessions |
| Maximum Training Depth: | 20 meters |
| Suggested Duration: | 16 – 20 hours |
Our schedules are available to view when you select the book now below. Alternatively call us on 09 422 3599
DIVE COURSE HIGHLIGHTS
When you become an SSI Level 1 freediver, you open the door to worldwide freediving opportunities. Learning to freedive with SSI is easier than you think. In this program, online training, pool/confined water sessions and open water dives are combined to help you become a confident and safe freediver in no time. Once certified, you can freedive with a buddy in open water up to a depth of 20 meters and explore a variety of stunning underwater ecosystems around the world. Get started online today!
DIVE COURSE DETAILS & INCLUSIONS
During the course you will learn skills needed to Freedive, which includes:
Relaxation & Breathing techniques; Static Apnea; Surfacing dynamics; Finning techniques; Body positioning & Equipment preparation.
Important emphasise is placed on safety aspects such as Shallow Water Blackouts; Recovery techniques, Cramp , Equalisation & Saving other divers..
Plenty of time will be provided for you to try these skills for yourself in the safety of a confined environment with your instructor.
Skills  requirements will include:
• The Freediving Level 1 program has an open water depth limit of 20 meters.
• The maximum depth for students under the age of 15 during all training dives is 12 meters.
Achieve the following performance requirements:
• Dynamic with bi-fins for 30 meters, while demonstrating proper neutral buoyancy, start, finning, body position,
turn and surfacing.
• Blackout Rescue of a victim with dynamic weights on.
• Loss of Motor Control (LMC) surface rescue.
• Dynamic Only arm stroke 15m.
• Mask removal (confined water).
• Static session in the water with no minimum requirements.
• Constant Weight Dive (CWT) to a minimum depth of ten (10) meters (20 meters maximum), while
demonstrating proper duck diving, finning, body positioning, line orientation, turn and surfacing techniques.
• Shallow Water Blackout (SWBO) rescue from ten (10) meters.
• Arm-stroke only ascent from ten (10) meters.
• Mask removal ascent from (10) meters.
DIVE COURSE ITINERARY
The confined pool session takes approximately 4-6 hours.
Open water sessions will require 1-2 days
Should those of you wish, there is an additional option of joining our spearfishing charter and put your new skills into practice.
WHAT TO BRING
You will need to bring your swimming costumes with you.
You will require a Freediving or Spearfishing wetsuit, fins, mask, snorkel and weight belt. Please do not try to use scuba diving attire for this course
New Zealand Diving have packages available for you to purchase. These are available in-store or from our shop online
LEVEL 1 FREEDIVING COURSE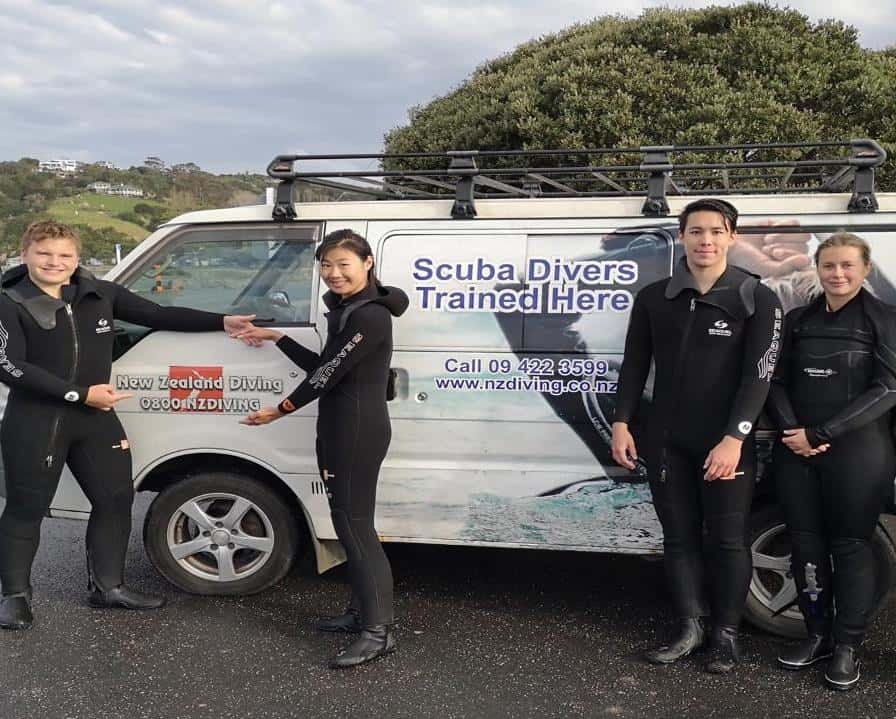 Includes Online theory and a three day course combination of confined water and open water training. Depth requirements apply
Warkworth, North Island, New Zealand

SSI Level 1 Freediving course

3 day course, includes pool & open water sessions

$660
Book Now
ADVANCED DIVER COURSE
"Elite Standard of Training, Thank you NZ Diving Looking forward to working together on the next step of my overall objective.
SCUBA DIVE CHARTER
"Neil and his crew were fantastic!! An awesome day with awesome people. Totally recommend!!
WEEKEND WRECK CHARTER
"We were well looked after on our Wreck Dive and had a great time with top notch banter from Neil and his team"
OPEN WATER COURSE
" Completed 3 day course a month ago with my 18yr daughter. Would absolutely connect with this company in the future to dive again!! Thanks Neil!!"
HAMMERHEAD EXPERIENCE
" Professional, Informative, Amazing and Fun, What more could you want!? "
ENQUIRE TODAY
Please contact us using the enquiry form below, if you would like to know more about any diving options featured on our website. Interested in a particular course? Need help with finding suitable diving equipment? Or, any other questions that you may have? Please use this contact form to get in touch with us.