INSTRUCTOR DEVELOPMENT COURSE
ARE YOU READY?
Becoming an instructor is an achievement, a milestone in your career.  Can you remember your first dive? A tentative apprehension, mixed with the excitement of the experience of breathing underwater? The endless beauty of the underwater world? The weightlessness, and feeling like you are flying? That first ever dive is often life-changing, whether diving for fun or to become a professional. Regardless, a diver's initial instructor will make or break the experience. Thanks to the Instructor Development Course, your chance to become that instructor has arrived.
DIVE COURSE HIGHLIGHTS
Every diving professional needs the backing of a good organisation — and SDI are the best in its class. Once you become part of the SDI team, you're not just a number, you're a name! Built on a philosophy to make diving fun and instructing even better, SDI has proven they are innovators in the sport of diving, with friendly and flexible training programs only available through them.
If you agree with their philosophy, you might want to become an SDI diving instructor; or, perhaps you already are, and would like to train new instructors, cross existing instructors over to SDI, or offer more specialties in your dive facility. Either way, this course is for you. 
DIVE COURSE DETAILS & INCLUSIONS
The Instructor Development Course (IDC) teaches you how to schedule courses, successfully market scuba, properly teach and design academic and in-water sessions, and effectively utilise assistants.
The Instructor Evaluation Course (IEC) then evaluates everything you learned during the IDC. Typically, this is a two day evaluation process and evaluates your abilities in preparing and teaching academic sessions, knowledge of subject matter, pool/confined water lessons, open water lessons, and emergency management abilities.
DIVE COURSE ITINERARY
Price includes: Training materials, including instructor training pack & course registration fee.
8 x day Course (includes IDC training and IEC evaluation).
Price excludes personal professional fees on completion.
This course also requires a minimum of 100 logged dives, a current medical and the O2 Administration and a First Aid certification
WHAT TO BRING
Although you can rent equipment from us, we strongly recommend that you use your own scuba diving equipment. We have some GREAT offers that you can purchase directly from our online store, or if you prefer you can come to the shop and get some professional advice so we can help set you up for the future.
INSTRUCTOR DEVELOPMENT COURSE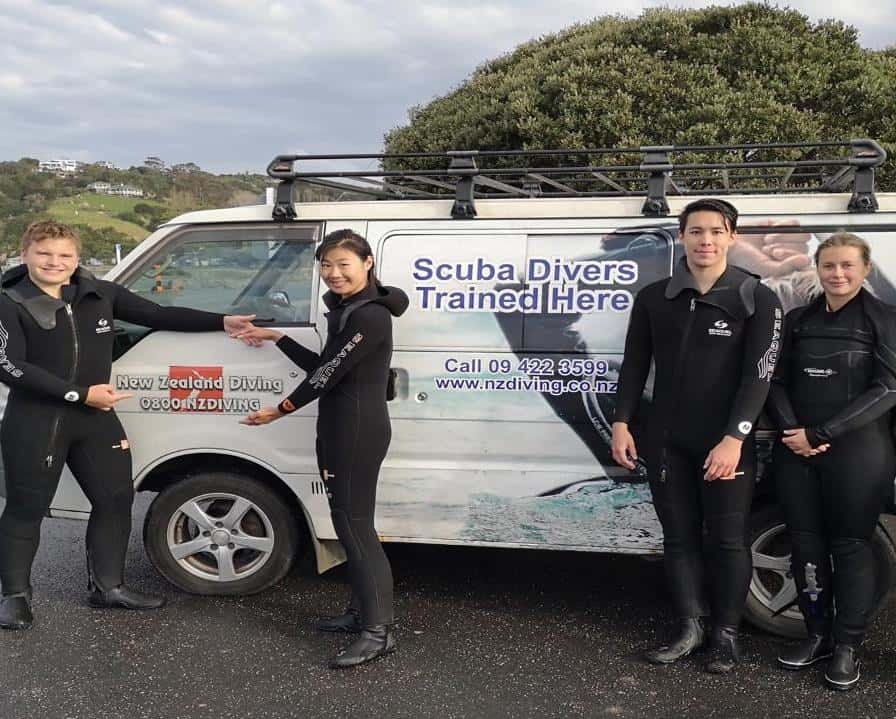 The IDC includes both the training course and the external evaluation.
All of your hard work in scuba diving leads to this course and allows you to now train others with the knowledge and experience you have gained over the years.
Warkworth, North Island, New Zealand

SDI Instructor Development Course

Contact for Details

$3224.00
Book Now
ADVANCED DIVER COURSE
"Elite Standard of Training, Thank you NZ Diving Looking forward to working together on the next step of my overall objective.
SCUBA DIVE CHARTER
"Neil and his crew were fantastic!! An awesome day with awesome people. Totally recommend!!
WEEKEND WRECK CHARTER
"We were well looked after on our Wreck Dive and had a great time with top notch banter from Neil and his team"
OPEN WATER COURSE
" Completed 3 day course a month ago with my 18yr daughter. Would absolutely connect with this company in the future to dive again!! Thanks Neil!!"
HAMMERHEAD EXPERIENCE
" Professional, Informative, Amazing and Fun, What more could you want!? "
ENQUIRE TODAY
Please contact us using the enquiry form below, if you would like to know more about any diving options featured on our website. Interested in a particular course? Need help with finding suitable diving equipment? Or, any other questions that you may have? Please use this contact form to get in touch with us.